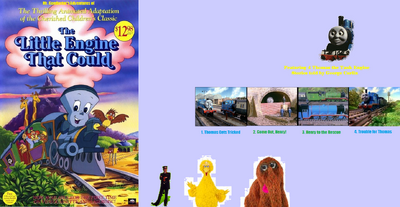 Mr. Conductor's Adventures of The Little Engine That Could is the 36th crossover movie featuring Mr. Conductor in the classic movie "The Little Engine That Could." It features 4 season 1 Thomas the Tank Engine stories.
Notes
Thomas Stories told by George Carlin.
From Britt Allcroft Studios & MCA Universal Studio Pictures.
Thomas Stories
Thomas Gets Tricked
Come Out, Henry!
Henry To The Rescue
Trouble For Thomas
Guest Stars
Trivia
Mr. Conductor's Magic Warm-Up whistle is used in this movie.
Count Von Count makes a brief cameo.
The 4 Thomas Stories are all restored.
Quotes
Quote 1:
Mr. Conductor: All Henry could do was to watch the trains rushing through the other tunnel. He was very sad because he thought no one would ever see his lovely green paint with red stripes again. As time went on, Edward and Gordon would often pass by. Edward would say,
Edward: Peep, peep, hello!
Mr. Conductor: And Gordon would say,
Gordon: Poop, poop, serves you right!
Mr. Conductor: Poor Henry had no steam to answer. His fire had gone out. Soot and dirt from the tunnel had spoiled his lovely green paint with red stripes anyway. How long do you think Henry will stay in the tunnel before he overcomes his fear of the rain, and then decides to journey out again?
[Just then, the screen fills up with steam again as we return to the roundhouse]
Georgia: Engines like that really can be silly, you know, darlin'.
Movie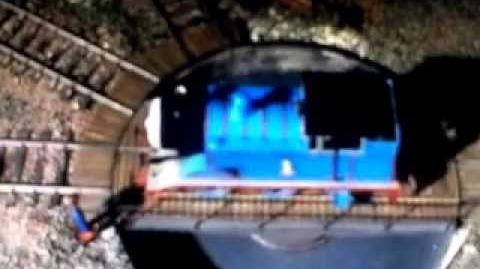 Ad blocker interference detected!
Wikia is a free-to-use site that makes money from advertising. We have a modified experience for viewers using ad blockers

Wikia is not accessible if you've made further modifications. Remove the custom ad blocker rule(s) and the page will load as expected.