Mr. Conductor Meets The Wizard of Oz (1939) is the 117th crossover featuring one Season 1 Thomas story and three Season 3 stories.
Notes:
Thomas Stories told by George Carlin.
From Britt Allcroft Studios & MGM/Warner Bros. Pictures.
Thomas Stories:
Thomas and Bertie's Great Race [seen in Black & White]
Thomas, Percy and the Dragon
A Scarf for Percy
Percy's Promise
Guest Stars:
Big Bird
Wallace & Gromit
Dr. Robotnik (working with the Witch)
Weasels (working with Dr. Robotnik and the Witch)
Quotes:
Quote 1:
Scarecrow: What about the heart you promised Tin Man?! And the courage you promised Cowardly Lion?!
Tin Man and Cowardly Lion [together]: And Scarecrow's brain?!
Mr. Conductor: Yes! And the scarf for me, Big Bird, Wallace and Gromit?! Which reminds me of a story about how Percy kept his promise to Thomas.
Wizard: What are you talking about?
Mr. Conductor: Just listen. (He blows his whistle and the story, Percy's Promise begins.)
Quote 2:
Sir Topham Hatt: Harold told me you were...uh...a wizard. He said he can beat you at some things, but not at being a submarine. I don't know what you two get up to sometimes, but I do know that you're a Really Useful Engine.
Percy: Oh, sir!
Mr. Conductor: Whispered Percy happily.
[Then the screen fills up with steam again as we return to Emerald City.}
Quote 3:
Mr. Conductor: Before we go to Emerald City, Mr. Lion, your roaring actually reminds me of one thing on Sodor that really scared Percy.
Lion: What's that?
Mr. Conductor: The Chinese Dragon. I'll tell you guys all about it before we go to the Emerald City once more. (He blows his whistle and the story, Thomas, Percy and the Dragon begins.)
Mr. Conductor: Thomas and Percy are good friends, but sometimes, Percy teases Thomas about being frightened, and he doesn't like that at all.
Quote 4:
Thomas: By the way, how was your night out?
Mr. Conductor: Percy decided to tell Thomas the truth.
Thomas: Well, Percy,
Mr. Conductor: Said Thomas.
Thomas: Maybe we do get scared, sometimes, but if we're not afraid to tell each other, then that means we're quite brave, too.
[Then the screen fills up with steam again as we return to the forest.]
Movie
Thomas stories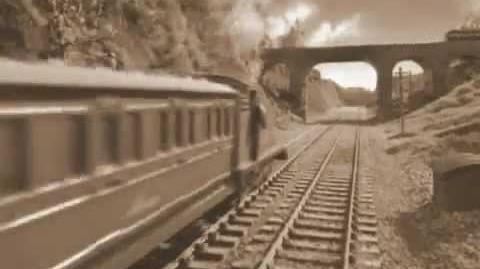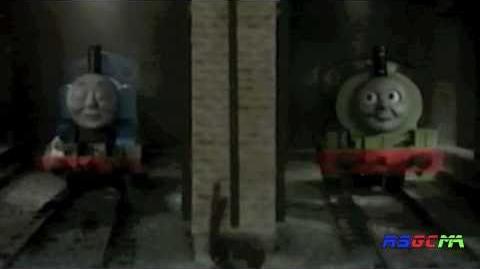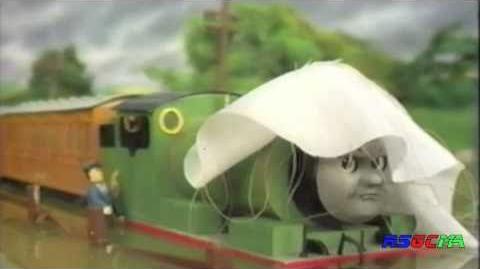 Ad blocker interference detected!
Wikia is a free-to-use site that makes money from advertising. We have a modified experience for viewers using ad blockers

Wikia is not accessible if you've made further modifications. Remove the custom ad blocker rule(s) and the page will load as expected.