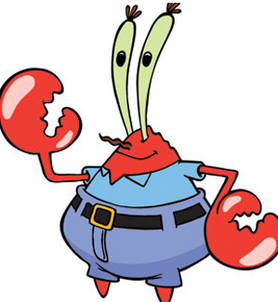 Mr. Eugene Krabs
is a fictional red-skinned crab from
SpongeBob SquarePants
. He is voiced by
Clancy Brown
. He is the owner of the fictional restaurant Krusty Krab (Krusty Krab2 in
The SpongeBob SquarePants Movie
).
Bio
Species: Crab (presumably Corystes cassivelaunus)
Skin Color: Red
Birthday: November 30, 1942
Age: 42 years old (adult)
Aligament: Good/Neutral
Clothing: Blue shirt, black belt, purple pants
Allies: SpongeBob, Patrick, Squidward (employees), Sandy, Pearl (daughter), Mrs. Puff (girlfriend), Larry, Gary, Mindy, Neptune, Money
Counterparts (pre-movie version)

 WARNING: You may add appropriate counterparts. But, do NOT delete any.
Big Mac/Big Stack, Sea Rogue, Grampus, Top Hat, Warrior, Hercules or Scuttlebutt Pete (TUGS/Salty's Lighthouse)
Vector the Crocodile, Knuckles the Echidna, or Shadow the Hedgehog (Sonic the Hedgehog)
Angry Grandpa (Angry Grandpa)
Knuckle Joe or Sir Ebrum (Kirby)
Walden (Wow Wow Wubbzy)
Boot's Dad (Dora the Explorer)
Bowser (SuperMarioRichie)
Pixel (Lazytown)
Joseph or Bowser (SML)
Psycho Dad (McJuggerNuggets)
Dr. Otto ScratchandSniff or Mr. Plotz (Animaniacs)
Elmo, Ernie, Cookie Monster, or Grover (Sesame Street)
Mr. Ratburn (Arthur)
Timmy's Dad, Jorgen or AJ (The Fairly OddParents)
Chef, Eric Cartman, or Stan Marsh (South Park)
Buzz or Matt (Cyberchase)
Mr. Hank Mufflin (Fanboy & Chum Chum)
Mr. Plod (Noddy's Toyland Adventures)
King Harold, Shrek or Puss in Boots (Shrek)
Four Arms (Ben 10) (both look a alike)
The Abominable Snowman or James P. "Sulley" Sullivan (Monsters Inc.)
Santa Claus (Rise of the Guardians (2012)
Johnny, Rolf or Eddy (Ed, Edd, n Eddy)
Judge Beeswax (Maya the Bee)
Counterparts (girl version)

 WARNING: You may add appropriate counterparts. But, do NOT delete any.
Mavis, Molly or Lady (Thomas the Tank Engine and Friends)
Candy Kong (Super Mario Bros.)
Vanilla or Blaze the Cat (Sonic the Hedgehog)
Cresselia (Pokemon)
Lady Like (Kirby)
Linda Flynn (Phineas and Ferb)
Mrs. Puff (SpongeBob SquarePants)
Petunia Pig (Looney Tunes)
Christopher Robin's Mom (Winnie the Pooh)
Nessie (Kong: The Animated Series)
Petunia (Happy Tree Friends)
Evy O'Connell (The Mummy: The Animated Series)
Timothy's Mother (Timothy Goes to School)
Jimmy's Mom (Out of Jimmy's Head)
Blur (Wild Kratts)
Rexy (Jurassic World)
Twilight Sparkle (Cheese Sandwich)
Parodies

 WARNING: You may add parodies. But, do NOT delete any. Complete parodies list
Gallery
See also
Ad blocker interference detected!
Wikia is a free-to-use site that makes money from advertising. We have a modified experience for viewers using ad blockers

Wikia is not accessible if you've made further modifications. Remove the custom ad blocker rule(s) and the page will load as expected.