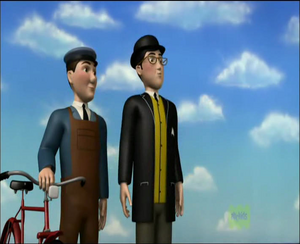 Mr. Percival
(aka; The Thin Controller) is the head of the
Skarloey Railway
in the
Thomas & Friends
TV Show based on
The Railway Series
books written by
Rev. W. V. Awdry
.
Bio
He brought Mighty Mac to the Railway and is usually found on his trusty bike. He stands for no nonsense from his engines. He looks like the Fat Controller, only thin and wears glasses and a bowler hat. In Season 10 it is revealed he is bald under his hat.
Mr. Percival was introduced in Season 9, and resembles the Thin Controller from The Railway Series, Mr. Peter Sam. Because of this, he is called the Thin Controller in the UK, while he is sometimes called the Narrow-Gauge Controller in the US version.
A Thomas magazine recently did a profile on Mr. Percival. It revealed that his full name was Mr. Peregrine Percival, and he is married to a woman named Polly, and has four children. It also states that he likes bikes, hates cars, and his hero is the Fat Controller. However, not everything in the magazine series is necessarily canon to the TV series. In Season 10 he is featured with his wife, but her name wasn't mentioned or confirmed. It might not even be his wife - he does openly cheat on her.
Voice Actors
Theme
Mr. Percival's theme is the instrumental from the Narrow Gauge Engines Song.
Counterparts (Thomas Version)
Counterparts (Skarloey Version)
Sir Topham Hatt - Thomas the Tank Engine and Friends
Captain Star - TUGS
JB King - Shining Time Station
Toadsworth - Super Mario Bros
King Acorn - Sonic the Hedgehog
King Derwin - Dr. Seuss/The Wubbulous World of Dr. Seuss
Henry's Dad - Horrid Henry
Mr. Haney - Arthur, both wear glasses
Mayor Joe Quimby - The Simpsons
Mayor Adam West - Family Guy
Mr. Litwak - Wreck-It Ralph
King El Zebulos - Rocket Knight Adventures
Parodies
Gallery
Ad blocker interference detected!
Wikia is a free-to-use site that makes money from advertising. We have a modified experience for viewers using ad blockers

Wikia is not accessible if you've made further modifications. Remove the custom ad blocker rule(s) and the page will load as expected.