Mr. Perkins is an engine driver from the Island of Sodor. He was portrayed by Ben Forster until his death in 2017.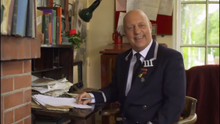 Appearances
Mr. Perkins appears in live-action segments since the CGI rebirth of Thomas and Friends. In Seasons 13-16 he is seen in the common room at Knapford Station. He often visits the Mainland in Mr. Perkins' Railway. Since Season 17, he reads stories from the Reverend W. Awdry's Railway Series, and writes postcards about various Sudrian locations in Mr. Edwards' signal box. His last appearance was in a video on the Thomas & Friends YouTube channel, where he read "Trouble in the Shed."
Mr. Perkins normally drives Thomas, his favorite engine, but he has also driven other engines, including Percy, James, Gordon and Diesel.
Ideas