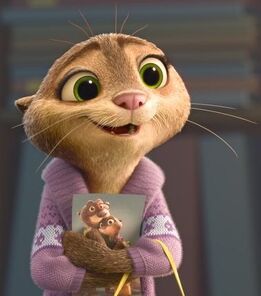 Mrs. Otterton
 is an otter from the 2016 Disney film 
Zootopia
. She is Mr. Otterton's wife and mother of two unnamed children.
Counterparts

 WARNING: You may add appropriate counterparts. But, do NOT delete any.
The Female Alligator (Wacky Races)
Rhonda Wellington Lloyd (Hey Arnold)
Aipom (Pokemon)
Buttercup (The Powerpuff Girls)
Eliza Thornberry (The Wild Thornberrys)
Tootie (The Fairly Oddparents)
Libby Folfax (Jimmy Neutron)
Almondine (Camp Lazlo)
Allison Taylor (The Simpsons)
Donna Tubbs (Family Guy)
Sybella (Scooby Doo)
Ma Gorg (Fraggle Rock)
Flame Princess (Adventure Time)
Karai or Buffy Shellhammer (Teenage Mutant Ninja Turtles)
See also
Ad blocker interference detected!
Wikia is a free-to-use site that makes money from advertising. We have a modified experience for viewers using ad blockers

Wikia is not accessible if you've made further modifications. Remove the custom ad blocker rule(s) and the page will load as expected.