Mudkip
(Kip)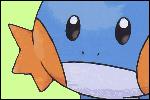 Desempenho
Lutas Oficiais
6
Vitórias
4
Derrotas
2
Aproveitamento
60%
Associado(a) à:
T.P.I.

Mudkip é um dos lutadores do Blast Battle - Torneio Pokemon. Extreou no Blast Battle III, e é uma das surpresas do Blast Battle V.
História
Pré Blast Battle e Vida Pessoal
Mudkip apareceu em meados do Blast Battle II, na onda da revolução noob de Pidgeotto, Dodrio e outros contra Plusle. Não sabe-se ao certo se ele havia participado de algum evento pokemon antes do Blast Battle. Em um incidente em que um off feminino apareceu dizendo ser ele, para se garantir, Mudkip resolveu revelar seu off. Teve idéias idiotas como as do Hotel Blast Battle e Bar Blast Battle, extremamente criticadas por Plusle, Harrison e Red Game. Também rolaram boatos de um relacionamento amoroso entre ele e Joyce Entei. Mudkip recentemente se assiciou à Torcida Pokémon Independente. Mudkip tem a estranha mania de trocar a letra "d" pela letra "t".
Blast Battle III
Mudkip ja participava do fórum do Blast Battle quando se inscreveu para a terceira edição. estreou com vitória para cima de um veterano, Snorunt Flakes que não estava em sua melhor fase - e por incrível que pareça, o juiz da luta era Plusle, principal rival dos noobs na popular disputa por poder, ou fama no Blast Battle. Na segunda fase, enfrentou o veterano Togekiss, que na época estava em uma de suas melhores fases como lutador. Foi derrotado em um julgamento equilibrado. Mesmo após a derrota e eliminação do torneio, Mudkip continuou frequentando os fórums do Blast Battle a esperar uma próxima edição. Lutou em alguns amistosos nesse meio-periodo.
Blast Battle Tag! (Narrador)
Apesar de a idéia de Mudkip de ser narrador do torneio parecer um tanto noob, foi bem aceita por Pedro Meowth. Mudkip até comçou a narrar uma luta, o que virou tragédia. Mas a tragédia acabou se tornando um pouco engraçada, com a revolta dos lutadores contra o narrador, a luta semi-narrada por Mudkip foi a mais assistida do falido Blast Battle Tag!. Mudkip levou a serio as críticas e abriu mão de seu cargo de narrador. Depois ele confessou que só quis este cargo por ter ficado sem vaga como lutador.
Blast Battle IV
Ancioso para o Blast Battle IV, após o fracasso do Blast Battle Tag!, Mudkip aposentou-se como narrador e decidiu seguir carreira como lutador mesmo. Em sua primeira luta enfrentou Dodrio, em uma luta de baixo nível da parte dos dois lutadores. O juiz da luta, Mr. Briney, chegou a afirmar que Mudkip sóteria ganhado porque foi menos pior que seu adversário. De qualquer forma, foi para a segunda fase e se deu de cara com um antigo rival: Togekiss. Desta vez, com menos chances ainda, pois Togekiss era um dos candidatos favoritos a vaga de campeão, perdeu a luta e se despediu do Blast Battle IV.
Blast Battle V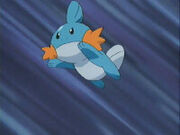 Mudkip se manteve afastado por um tempo do Blast Battle, no periodo que intercalou os torneios IV e V, onde aconteceu a maior crise de todas. Reapareceu, e se inscreveu para a quinta edição do torneio, com um moveset totalmente modificado. Na primeira fase, enfrentaria Flesha, uma estranha Absol que só ficou conhecida por beijar Pedro Meowth no tópico do chat. Flesha não demonstrou serviço algum, e sumiu do torneio após as suspeitas de que ela e Suki – outra lutadora dp Blast Battle V – eram a mesma pessoa se confirmarem. Mudkip venceu sua luta por WO. Na segunda fase, enfrentou o novato Deoxys, que vinha de uma vitória inesperada contra o favorito Tyrogue. O mais surpreendente foi o desempenho de Mudkip na luta, que lhe rendeu a vitória. Foi muito elogiado pelo juiz Pedro Meowth, e passou a ser um dos favoritos ao título de campeão. Mudkip foi o primeiro lutador a realizar um combo que envolvia a presença ativa e constrante do ambiente de batalha. Na terceira fase Mudkip enfrenta Dark Heart, que até agora não terminou nenhuma luta, a não ser uma que perdeu. Porêm, demostrou uma habilidade muito grande com o Uso de campo e as estrategias, muitas envolvendo o "Razor Wind Circular",que após uma grande explicação com quimica e fisica, foi aceitado como um ataque capaz de virar um tornado. Mudkip ganha por pouco, mas passa para a proxima fase do torneio. Agora, Mudkip tinha uma dificil missão, vencer Vespiquen, ou mais conhecido como Plus. A luta foi umas das mas brilhantes que teve em todas as edições do Blast Battle. Uma luta divida, com os lutadores fazendo uma otima batalha. Mud estava desejando ir para a final contra Tyrogue (que voltava de respecagem), porém, o vencedor da luta foi Plus, e sonho de Mudkip ir para a final contra seu melhor amigo foi por água abaixo. Mudkip ainda sim conseguiu ir para a disputada de terceiro lugar contra Porygon2, uma luta divida, estrategias excelentes, porém Mudkip não conseguiu a vitoria e o Porygon2 ficou com o Terceiro Lugar e Mudkip, com praticamente, na quarta colocação do Blast Battle V. Nesse torneio, é considerado a maior evolução em batalha para Mud.
Habilidades
Estilo de Luta
O estilo de luta de Mudkip quase não tinha influência no inicio. Pela primeira vez que lutou, no Blast Battle III, seu modo de luta se assemelhava ao modo de luta estabelecido em outros torneios anime. A partir do Blast Battle IV, apresentou forte influência de Togekiss. Desde então tem apresentado também influencia de seus parceiros de clã Charizard Black e Tyrogue.
Rodapé
Ad blocker interference detected!
Wikia is a free-to-use site that makes money from advertising. We have a modified experience for viewers using ad blockers

Wikia is not accessible if you've made further modifications. Remove the custom ad blocker rule(s) and the page will load as expected.