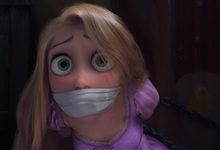 "Mm, mm, MM!"
In many films and media, many characters can let out muffled cries and/or screams, usually behind someone's hand or a gag, or when bouncing around inside some monster's mouth. Also, a character can scream into a pillow. Usually, muffled cries and screams are serious, but some of them can be funny.
Muffled Cries and Screams are as follows:
Kayley (Quest for Camelot)
Nani (Lilo and Stitch)
Wendy Wu
Jane (Return to Never Land)
Marion Ravenwood (Raiders of the Lost Ark)
Young Pocahontas
Angie (Shark Tale)
Lin Yuan Guo (The Mummy: Tomb of the Dragon Emperor)
Vorb (We're Back! A Dinosaur's Story)
Rapunzel (Tangled)
Lara (Justin and the Knights of Valour)
Sour Bill (Wreck-It Ralph)
Aladdin
Tina (Supernatural: About a Boy)
Peter Quill/Star-Lord (Guardians of the Galaxy)
Ad blocker interference detected!
Wikia is a free-to-use site that makes money from advertising. We have a modified experience for viewers using ad blockers

Wikia is not accessible if you've made further modifications. Remove the custom ad blocker rule(s) and the page will load as expected.