My-Otome 0~S.ifr~ (舞-乙HiME 0~S.ifr~, Mai-Otome 0 Shifuru?) is an upcoming anime OVA produced by Sunrise and directed by Hisayuki Hirokazu, the former My-Otome character designer. It is a prequel to the My-Otome TV series. The first episode is scheduled to be released February 22, 2008 to Japanese DVD.
"Sifr" (صفر) is the Arabic word for the number 0 (zero). It is also the name of a main character, Sifr Blan.
In the promotional teaser trailer for My-Otome 0, included in episode 4 of My-Otome Zwei, the title was written as My-Otome S.ifl (舞-乙HiME S.ifl, My-Otome S.ifl?). However, the spelling "S.ifr" is consistent in all other sources.
Characters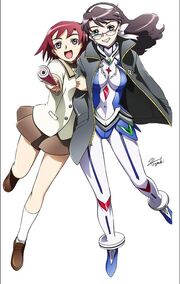 External links
Ad blocker interference detected!
Wikia is a free-to-use site that makes money from advertising. We have a modified experience for viewers using ad blockers

Wikia is not accessible if you've made further modifications. Remove the custom ad blocker rule(s) and the page will load as expected.