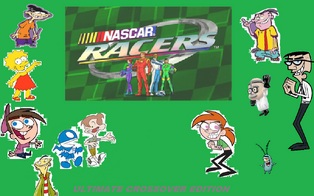 NASCAR Racers - Ultimate Crossover Edition is a crossover series featuring characters from the original NASCAR Racers cartoon series and other characters of various shows.
Characters (Team Fastex)
Jack Fassler (Prinicpal owner of NASCAR and Team Fastex in his own role)
Libby Fassler: (Wife of Jack Fassler in her own role)
Douglas "Duck" Dunaka (Crew Chief/Head Mechanic in his own role)
Snap White (volunteer for the Team Fastex garage and in Miles McCutchen's role)
Timmy "Double T" Turner #204 (in Charger's role)
Edd "Double-D" Marion #808 (in Flyer's role)
Rudy "Chalk Boy" Tabootie #404 (in Stunts' role)
Lisa "The Brainiac" Simpson (in Spitfire's role)
Ed (Season 2) (in Cooch Lugnut's role)
Characters (Team Rexcor)
Garner Rexton (Principal owner of Team Rexcor and owner of Jack Fassler's bank)
Spex: (robot cyborg Crew Chief of Team Rexcor)
Eddy "The Scammer" Skipper #606 (in Collector's role)
Denzel "The Destroyer" Crocker #303 (in Specter's role)
Professor Finbarr Calamitous #707 (in Junker's role)
Vicky "The Babysitter" Icky #505 (in Zorina's role)
Sheldon J. Plankton (appears "The Mission" S1, and "Red Flag" S2 in Brock Vanleer's role)
Kent Steele #500 (ultra-destructive robot android)
Imaginary Gary (Season 2 in Red Line's role)
Trixie Tang (Season 2 in Chrome's role)
Kevin: (Season 2 in Octane's role)
Grim Repo (Season 2 in is own role)
Evil Jimmy Neutron Clone (Season 2 in Tanker's role)
Minor Guest Stars
MRN Radio (Co-Pilot)
Cosmo & Wanda (Heroes)
Buttercup (Snap vs. Machine)
Episode 1: The Real Thing
Plot
Timmy "Double T" Turner, Edd "Double-D" Marion, and Rudy "Chalk Boy" Tabootie and Eddy "The Scammer" Skipper enter the NASCAR Unlimited Series put together by Jack Fassler and Lisa Simpson. The very first training session in Team Fastex Headquarters went fine but competitive. All went down when Eddy "The Scammer" McRich punctured Rudy Tabootie's tire with his car's grappling hook and caused him to wreck violently. Rudy and Eddy fought after exiting the simulator and Duck and Jack had to break it up and fire Eddy from Fastex. Eddy joins Team Rexcor and is asked by Garner Rexton to spy on Team Fastex. While racing on motorcycles from the diner, Edd crashes into a muddy swamp and when he was brought back to the diner, his girlfriend Jackie Evancho temporarily left him and took his jeep (While Timmy and Rudy were laughing at him). The drivers were practicing their real cars with a mystery driver which turns out to be Lisa auditioning for Team Fastex. Snap accidently gets in the way when Rudy and Timmy come out of the Motorsphere and Timmy wrecked and bailed out in his rescue racer. The episode ends with Edd heading straight towards Snap and Timmy.
Quotes
Quote 1
(Episode opens with Timmy, Edd, Rudy, and Eddy racing in the Team Fastex simulator)
Rudy: Rudy Tabootie is coming through! Move over and give me some asphalt! Rev it up!
Eddy: You pigeons of rookies talk too much! You don't drive with your traps!
Timmy: Who are you calling pigeons, Skipper?!
(Edd pulls alongside Eddy)
Eddy: Don't even think about it, Sockhead! (Blocks Edd)
Edd: *frustrated growl*
Eddy: Hey! Nobody gets by the king of pranks! *bashes into Rudy*
Rudy: UNGH! Hey dork, don't dent the car!
Eddy: Anyone else want a "driving lesson"?!
Timmy: Lame excuse, Eddy! What a cop out! I'm passing you on the next turn!
Edd: You guys are probably thinking 2-Dimensional. I'll give this airborne booster a try! *pulls lever and nitro boostesr fire* Firing jump boosters. *hits switch and car flies* Oh, my gracious!!!! OUTSTANDING!!!!!
(Scene now shows Jack Fassler and Lisa Simpson in the control room watching what's going on)
Lisa: Edd's deploying his wings! T-Timmy's gonna surrender the lead!
Jack: We're not rooting for anybody are we?
Lisa: *gives unenthusiastic look to Jack*
(Scene goes back inside the simulator)
Timmy: Wow, Rudy! Did you see Double-D in your rear-view mirror?!
Rudy: I can see myself, Tim. Who could ask for more?
Episode 2: The Stakes
Episode 3: Heroes
Plot
Timmy is saved from the cliffside after his rescue racer fell into the river. Garner Rexton tells the Rexcor drivers that he will give each of them a bonus of $1 million if Team Fastex loses and that Spex and Eddy will go to the garage and sabotage one of the cars and they chose Edd's #808 machine to be the victim. Spex and Eddy sneaked into the Fastex garage and put an anti-shut down chip inside Edd's car to prevent the engine from shutting down so that the engine could become explosive. In the 1st race when the caution flag came out after Rudy wrecked Vicky, Edd realized that he couldn't slow down because of the chip preventing the engine shutdown. Lisa helps Edd escape the track and get him to the cliffside by the river to bail out in his rescue racer. After Lisa saved him, Garner realized his plan had failed. It was a very intense battle for the win, Timmy was getting pounded by Eddy and Calamitous, Timmy tried putting Eddy into the wall, but Eddy leaped his car onto Timmy's car and tried crunching him. Luckily, Rudy Tabootie drove on 2 wheels and "booted" Eddy off of Timmy and caused both of the 2 remaining Rexcor drivers and himself to wreck. While Timmy was all alone in the lead on the homestretch, his engine overheated and shut down. This gave Eddy a great opportunity to steal the win away from Timmy. Timmy leaped out of his car and pushed it to the win and beat Eddy to the start/finish line by 1 inch. While Timmy's celebration was going on, Jack Fassler officially welcomed Lisa "The Brainiac" Simpson as a member of the Fastex drivers and paid the his loan to Garner Rexton using the team's prize money.
Quotes
Quote 1
Mike Hauger: Welcome to Sports Network's Interglobal Television coverage of the Motorsphere 500, the 1st race in NASCAR's new Unlimited Series. And we're about to get things underway in New Motor City. I'm Mike Hauger.
Pat Anther: And I'm Pat Anther.
Mike Hauger: Drivers, Start Your Engines!!!! Whom are the drivers to watch in this race, Pat?
engines start and rev*
Pat Anther: Well Mike, Everyone's talking about the Team Fastex drivers. Timmy "Double-T" Turner"; proud resident of Dimmsdale, California who left Dimmsdale Elementary to join the NASCAR Unlimited Series, Lisa Simpson; who actually developed most of the technology used in the cars, Rudy "Chalk Boy" Tabootie; resident of Plainville who became last year's Plainville hero of the year is now competing in his first ever professional sport.... and of course Eddward "Double-D" Marion; Peach Creek native who suffered a lot of dilemmas in his old Cul-De-Sac, and this morning he told us at SNIT that he feels more comfortable competing in professional motorsports.
(Nascar Racers Theme Plays and engines rev loudly and pull out of the pits)
Jack: If we don't win this race, Duck.... I could LOSE Fastex. *watches cars pull out of the pits and begin their warmup laps in quadruple file*
Quote 2
Mike Hauger: There's good news for Team Fastex, the 2 drivers who left the race are safe.
crowd cheers loudly and cars race by*
Rudy: Ah! Now I can get my head back into this race!
Timmy: I'm with you, dude, LET'S DRAFT TOGETHER!
Pat Anther: And on the track, Rudy Tabootie and Timmy Turner are gaining on the Rexcor leaders.
Jack: We're challenging for the lead, Duck!
Rudy: Closing in on them, Tim! Make your move!
Timmy: Start praying, Rexcor! *pulls lever and nitro boosters fire*
Snap: All right! *leaders race by them* Get those 2, bucko!!!!
Timmy: I'm making my move, Duck!
Episode 4: Duck Out Of The Way
Plot
The 2nd race takes place in REXCOR Raceway. Lisa Simpson is injured in an accident and ends up in a 2-hour coma. The race head to be cancelled and redone the next week because the track was blocked from Lisa's accident. At the Motor City Hospital, Jack blames Duck for not checking the electronic carburetors properly. Duck "quits" Team Fastex and joins Team Rexcor, but is actually spying on the team. Snap tried working on the cars but he couldn't get it right. Duck secretly followed the Rexcor hauler to a microwave factory, and late at night, he invited Jack to help him spy on Rexcor to see how they sabotaged Lisa's car. Duck and Jack found the solution to the issue when they saw Spex work on a short-circuit camera-like microwave beam. Jack and Duck found out that Rexcor used the microwave beam to fry the electronics in Lisa's car. After they escaped the next day, Jack and Duck had to hurry back to the REXCOR Raceway in Duck's pickup truck and protect the other Team Fastex drivers from falling the same fate as Lisa. Garner and Spex already took out Edd and Timmy Turner when they arrived to the track. Rudy Tabootie was the only Fastex driver still on the track in the 3rd position behind Professor Calamitous and Denzel Crocker. Duck and Jack managed to save Rudy by knocking the microwave beam off target using Duck's pickup truck to pull the Rexcor hauler where the microwave beam was lifted. Crocker and Calamitous got hit instead of Rudy and Rudy managed to take the checkered flag. Lisa watches her team celebrate and wished that she could have been with them in Victory Lane and was told by Libby that her time will come.
Quotes
Quote 1
Lisa: Yeah! Coming through! *pulls alongside Timmy*
Timmy: Duck really did a cool job settin' ya up for the race, Lise.
Lisa: Everything's just right, Timmy. I have a feeling today is my day.
Jack: Lisa's going all the way, Duck!
Duck: I thought you didn't want Lisa to drive.
Jack: I don't. But if she is going to drive, I want her to win!
Lisa: Move over Rexcor, *fires boosters* comin' through!
Garner: I won't let Lisa Simpson beat me!!!! *turns on mini tron* Spex, activate the device.
Spex: The prototype has not been fully tested.
Garner: Then test it now! I don't intend to lose this race especially not to Lisa Simpson!
Spex: Yes, Mr. Rexton. *types on his built-in keypad* Microwave beam's activated. Target locked.
Garner: On Lisa's next pass, let's see how well she handles an emergency.
Calamitous: Will I be blowing my own um-- um--....
Garner: Tire, you imbecile!!!!
Calamitous: Oh, yeah, yeah!
Lisa: *approaches Calamitous' car* Comin' through, Calamitous! I'm gettin' by you on the backstretch!
Calamitous: Over my dead um-- um--
Calamitous: Oh yeah, body!
Lisa pulls alongside Calamitous and Calamitous pulls lever and punctures his own tire, causing himself to spin out of control*
Lisa: Hey, watch it! Got to use my boosters to avoid this! *pushes lever and flying boosters fire. (After avoiding a spinning Calamitous) Whoa! That was a near miss.
Spex blasts Lisa's car with the microwave beam*
Jack: Her rescue racer isn't launching!
Lisa: It's gone awry! Whoa! *car hangs on tower and immediately falls* Whoa! NOOOO!!!!! *crashes to the ground*
Jack: Lisa! *runs*
Duck: Wait, Jack! The cars are still on the track!
Mike: Red flag's on the track! This is disasterous!
Fastex cars approach the scene of the accident and brake hard*
Edd: WHOA!!!! The track's blocked!!!!
Rudy: Whoa. it's getting crowded out here!
cars finally screech to a halt and Timmy immediately exits his #204 car*
Timmy: *runs and pants* (in horror) LISA!!!!
Edd: Get her outta there, Timmy! The car's gonna explode!
Timmy yanks Lisa out of her #101 car, runs with Lisa in his arms and the #101 car explodes*
Timmy: You're gonna be okay, Lisa.... I promise.
Rudy: Will she be all right, Edd?
Edd: Lisa's tough, Rudy. She'll be fine.
Quote 2
Mike: We have a new leader! Timmy Turner is lapping the field!
Timmy pulls alongside Vicky*
Vicky: It ain't right to pass a lady! *rams against Timmy's car* Especially your babysitter!!!! *rams against Timmy's car again*
Timmy: UNGH! Ya ain't no Lady! And ya definitely AIN'T MY BABYSITTER!!!
Vicky attempts to wreck Timmy, Timmy slams onto the brakes, and Vicky crashes*
Vicky: WHOAH!!!! AAAAAHHHHH!!!!! *#505 car lands right side up and screeches to a halt* *screams in frustration and pounds onto the steering wheel*
Timmy: So long, wicked witch! *pushes lever and his boosters fire* WHAAH-HOO-HOO-HOO!!!! If I hold this lead within 5 laps, we're taking the checkered flag again!!!!
Spex fires microwave beam at Timmy's car and the #204 machine suddenly malfunctions going crazy*
Timmy: WHOA!!!! Aah! He-Hey! Wh-what's up this thing?!!!! *shuts engine off and the #204 car screeches to a halt* Aw, c'mon! I almost had it!
Mike Haugher: Unbeliveable! Timmy Turner is out of the race!
Garner: 2 down and 1 to go. *shows Spex on his tron* Knock out the last Fastex car and the race is mine!
Spex: Yes, Mr. Rexton. *types on his keypad*
Mike Haugher: We're in the final laps and 3 cars still have a chance!
Rudy: Time for some Fastex action! You're goin' down, REXCOR! *pushes lever and the #404 car's boosters fire and goes on 2 wheels*
Spex: Bye, Chalk Boy. (About to hit the firing button on his keypad)
(Scene cuts to Duck and Jack arriving inside REXCOR Raceway)
Duck: Hang onto your comb! *pulls the REXCOR hauler containing the microwave beam* This should knock em' off target!
Spex accidentally fires the microwave beam at Calamitous instead of Rudy*
Crocker: UNGH! Spex, you imbecile!!!! You blasted the wrong car!!!! *both Crocker and Calamitous wreck*
Rudy: Serves them right, I just received my first victory!
Mike Haugher: And Rudy Tabootie takes the checkered flag!!!!
Rudy's car screeches to a halt, the crowd rushes to Rudy's #404 car cheering, and a girl put a winner's wreath around Rudy's neck*
Jack: Now we all know what REXCOR's been up to, we can harden all the on-board computers against them.
Duck: They won't be able to use that trick again.We'd better keep our eyes on them.
Rudy: You mean you're on our side again, Duck?
Duck: You better believe it. A team's like a car, it's as only as good as it's parts.
*scene cuts to the REXCOR press-box*
Garner Rexton: *snarls while watching Team Fastex celebrate* *scene cuts to the hospital*
Lisa: I feel grateful that Rudy won for us, but I just wish I won for my team and celebrated with them in Victory Lane.
Libby: Your time will come, Lisa. You don't have to prove anything to anyone.
Lisa: Only to my own self. *episode ends*
Episode 5: Co-Pilot
Lisa is training in the Simulator when a mysterious figure meets her and asks her to help him drive against the Simulator. It is really Eddy hacking into the Simulator, and he hooks up the

 Simulator to his car so Lisa will be driving it in the next race. She will have to realize that it's all a trap by Eddy.
Episode 6: The Mission
Episode 7: Always
Eddy rigs Timmy's car to go out during an off-road race in Alaska. Lisa, Edd, and Rudy go out in the cold Alaskan night to search for their missing friend and teammate. Timmy encounters an airplane crash while being stranded, and a man trapped in the airplane calls out to Timmy for help. The

 crash site, however, is decades old and is deserted. Timmy wondered if it was his great-grandfather. It WAS his great-grandfather because Timmy was hallucinating, and it had been a decade since his great-grandfather crashed. Timmy's great-grandfather was gone as soon as Timmy was found by Team Fastex and led them to the crash-site.
Episode 8: Snap Vs. Machine
After Snap accidentally takes over a computer-controlled car and creates chaos at Team Fastex Headquarters, Rudy banishes him from the Fastex garage and the pits. Meanwhile, Garner Rexton schemes to reprogram the computer that controls the Motorsphere so

 that the sphere's morphing track will attack the Team Fastex cars during the next race and try to destroy them. Snap and Buttercup are trapped inside the Motorsphere with Team Fastex. As the Fastex drivers struggle against the automated obstacles and lasers thrown against them by the Motorsphere, Snap uses his technical savvy to disable the computer, save the evening, and make Rudy feel guilty and soon realize what his best friend did was a big mistake, and that Snap had learned big time from it. Rudy soon gave Snap back his privileges to help Duck in the garage and the pits.
Episode 9: Pulp Faction
Episode 10: Daredevil
Episode 11: Flag Bearer
Episode 12: Every Man For Itself
Episode 13: All Or Nothing
Trivia
This is the Season 1 Finale
Episode 14: Second Chance
Trivia
Episode 15: Toxic
Episode 16: Payday
Episode 17: Red Flag
Episode 18: Chain Reaction
Episode 19: Rumble
Episode 20: Crash Course
Episode 21: El Dorado
Episode 22: The Wild Blue
Episode 23: Runaway
Episode 24: Duck Unlimited
Episode 25: Hostage
Episode 26: Last Chance
Trivia
This is the Series Finale.