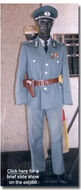 The National Security Enforcement Service is the secret service of the Dominion, which was first proposed to be created after the Formation Wars, then again once a large Galactic Alliance spying network was discovered around 103 ABY. The final call came once an important strategy map was stolen from Wayland, but this time the call came from the Lord. It is unknown who used the title greyshirt first, but it is known that the name was used by the Lord when he gave clearance to create the NSES. It was created as a subdivision of High Command and codenamed as "Division of Internal and Foreign Security Matters" in the law that created it. Under the NSES serves the International Intelligence Agency. These two agencies were not created because of increasing espionage threat from outside the Dominion, but rather because internal corruption was increasing and racism amongst several high-ranking officials were left untended. It was decided that the legislations was to be revamped. With an emergency election by the Governors' Council, the same judges were elected, but in the meantime the Council filled the legislation with loopholes for the NSES and IIA to use. This way the Secret Service was unofficially given authority to use any measures to stop or limit the corruption and racism before rioting began.
The duties of NSES and the IIA:
To serve and protect the Dominion of internal attacks and foreign espionage
To serve the Dominion in secrecy and avoid all media
To protect individual rights of others at the cost of the terrorists'
To protect public rights at the cost of certain individual rights
To effectively enforce the security of the Dominion
To gather intelligence of international affairs
To maintain up-to-date intelligence of internal affairs of other nations as well as of individuals
To supervise agents outside the Dominion's borders
Ad blocker interference detected!
Wikia is a free-to-use site that makes money from advertising. We have a modified experience for viewers using ad blockers

Wikia is not accessible if you've made further modifications. Remove the custom ad blocker rule(s) and the page will load as expected.