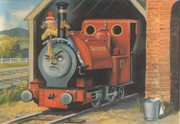 Nancy is a guard's daughter featured in The Railway Series and in the Thomas the Tank Engine and Friends TV Series. She lives around the narrow-gauge railway, and sometimes polishes the engines to make them shiny. On one occasion she was polishing Skarloey for when Rheneas comes home, and Duncan became extremely jealous. However, she works hard, and has many friends on the railway.
Nancy has only been featured in one TV Story, but made another in the Railway Series Book 'Very Old Engines'. She also makes a cameo in 'Harold and the Flying Horse' near the end, and several cameo appearances in many Season 7 episodes.
Parodies
Ad blocker interference detected!
Wikia is a free-to-use site that makes money from advertising. We have a modified experience for viewers using ad blockers

Wikia is not accessible if you've made further modifications. Remove the custom ad blocker rule(s) and the page will load as expected.