Ad blocker interference detected!
Wikia is a free-to-use site that makes money from advertising. We have a modified experience for viewers using ad blockers

Wikia is not accessible if you've made further modifications. Remove the custom ad blocker rule(s) and the page will load as expected.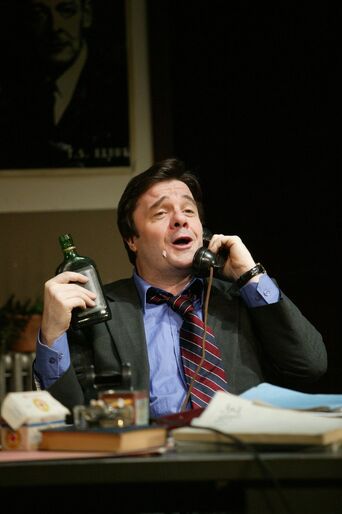 Nathan Lane
(born February 3, 1956) is an American Actor of Stage, Television and Screen. He is best known for his roles as Mendy in
The Lisbon Tarviata
, Albert in
The Birdcage
, Max Bialystock in the Musical
The Producers
, Ernie Smuntz in
MouseHunt
, Nathan Detroit in
Guys and Dolls
, Pseudolus in
A Funny Thing Happened on the Way to the Forum
and his Voice Work in
The Lion King
,
Digimon: The Movie
,
Madeline: Lost in Paris
,
Charlie and the Chocolate Factory
,
Stuart Little
,
An American Tail
,
My Fair Madeline
,
Madeline in Tahiti
,
Digimon Adventure
,
Digimon Adventure 2
,
Veggie Tales
,
Toy Story
,
Toy Story 2
,
Toy Story 3
,
Cardcaptor Sakura: The Movie
,
Cardcaptor Sakura: The Movie 2: The Sealed Card
,
Sailor Moon
and
Finding Nemo
. In 2006, he recieved a Star on the
Hollywood Walk of Fame
and in 2008, he was inducted into the
American Theatre Hall of Fame
. He is one of the
many people to win the Emmy, Grammy, Oscar and Tony Award
.
Early life
Lane was born Joseph Lane in Jersey City, New Jersey, the son of Irish American Cathloic Parents. He was named after his uncle, a Jesuit Preist. His father, Daniel, is an aspiring Tenor and Poet; his mother, Nora, is an Actress of the Stage and Screen. He has two brothers, Robert and Daniel.