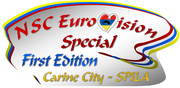 Nation Song Contest: Eurovision Special (or simply: NSC-ESC) is the name of a NSC Spinoff Contest, where the participating nations must enter with an Eurovision Song Contest entry. The first edition was held in Carine City, Spila. There were 22 confirmed entrants. The rules are same as in the NSC.
Participants
A recapitulation video can be viewed here.
Ad blocker interference detected!
Wikia is a free-to-use site that makes money from advertising. We have a modified experience for viewers using ad blockers

Wikia is not accessible if you've made further modifications. Remove the custom ad blocker rule(s) and the page will load as expected.