Ad blocker interference detected!
Wikia is a free-to-use site that makes money from advertising. We have a modified experience for viewers using ad blockers

Wikia is not accessible if you've made further modifications. Remove the custom ad blocker rule(s) and the page will load as expected.
NSC6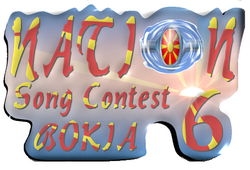 Nation Song Contest 6
Final Date
7 June 2007
Host broadcaster
Bok TV
Venue
Bokitown, Bokia
Winning song
Velvet - Fix me (YT Link)
Voting system
Each country awards 1-8, 10, and 12 points to their 10 favourite songs.
Number of countries
36
Debuting countries
Altharia, Cicvara, Galataland, Instir, Lolee, Manotto, Mountbatten Island, Rotterdamus, Sunland, United States of Carmen, Yaponesia
Returning countries
Lost Isle
Withdrawing countries
-
Null points
-
The sixth edition of the Nation Song Contest was held in Bokitown, Bokia.
Seeing as the limit of 30 countries had been reached in the sixth edition of the Nation Song Contest, a semi-final was introduced.
Participants in the final
Running order and participating songs:
The countries in bold are directly qualified for the NSC 7 - final.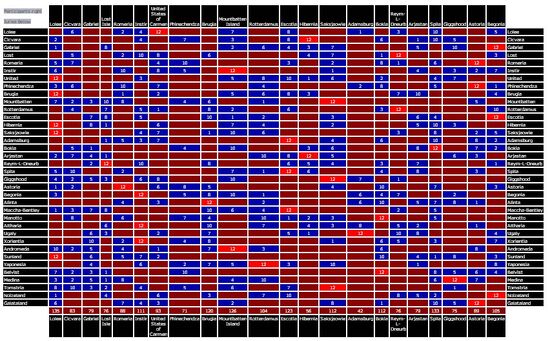 Participants in the semi-final
Running order and participating songs: (finalists in bold)
Recap video (made by Fearnavigatr) can be found here.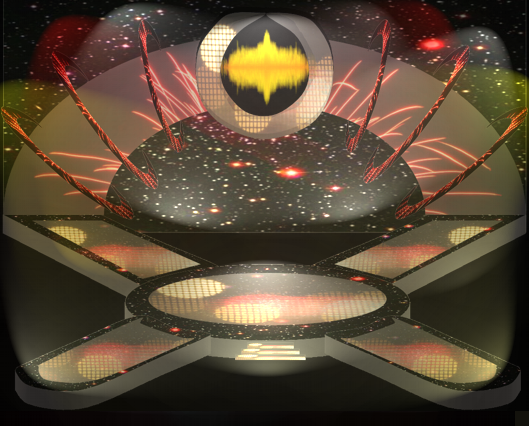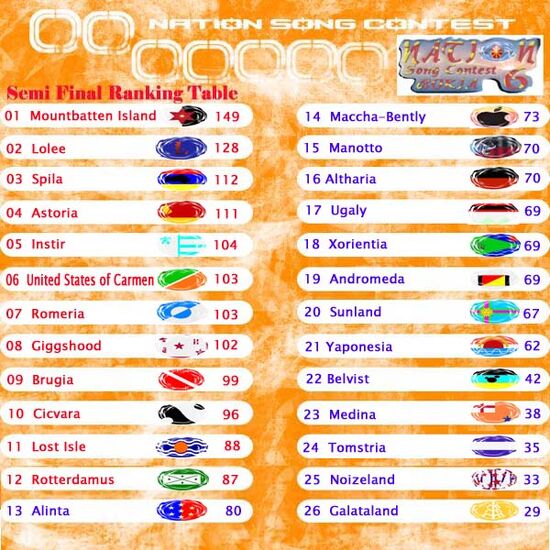 Controversy
In the NSC6 there were the first fights and discussions. The growing popularity of the NSC has made it more difficult to check if someone's cheating or not. Some say that brother- and sister-nations isn't that big a problem, but others fear that this will lead to a Cyprus-Greece effect.
Due to non-qualification, Xorientia threatened with withdrawal. Leader ixic has denied that Xorientia will withdraw.