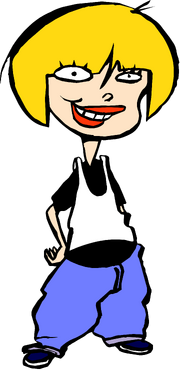 Nazz is a character from Ed, Edd, n Eddy. Although Nazz is usually depicted as sweet and smart, she can occasionally be a bit eccentric and acts as the stereotypical "dumb blonde."
Counterparts
Emily or Mavis (Thomas & Friends)
Lillie Lightship or Sally Seaplane (TUGS)
Wendy Testaburger (South Park)
Minnie Mouse, Daisy Duck or Clarabelle Cow (Mickey Mouse)
Dr. Hutchinson (Rocko's Modern Life)
Isabella Garcia-Shapiro, Stacy Hirano or Candace Flynn (Phineas and Ferb)
Numbuh 362 (Codename: Kids Next Door)
Coco Bandicoot (Crash Bandicoot)
Tessie Bear (Noddy's Toyland Adventures)
Yo, Lupe, Cher Leader or Nancy Pancy (Fanboy & Chum Chum)
Ella, Gwen, Dawn, Emma, Sanders, Bridgette, Zoey, Dakota, Jasmine, Samey, Sky, Kitty, Carrie, Jen, Crimson, MacArthur, Laurie, Miles, Ellody and Mary (Total Drama)
Ad blocker interference detected!
Wikia is a free-to-use site that makes money from advertising. We have a modified experience for viewers using ad blockers

Wikia is not accessible if you've made further modifications. Remove the custom ad blocker rule(s) and the page will load as expected.