Ad blocker interference detected!
Wikia is a free-to-use site that makes money from advertising. We have a modified experience for viewers using ad blockers

Wikia is not accessible if you've made further modifications. Remove the custom ad blocker rule(s) and the page will load as expected.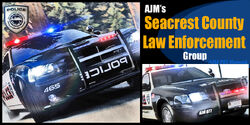 You can learn more about Seacrest County Law Enforcement Group by clicking the link below to take you to the Seacrest County Law Enforcement Page. Need For Speed Hot Pursuit's first Law Enforcement police group for the Playstation 3 opened up shop on October 26th, 2010. Weeks before the games release on November 16. Preliminary work began on recruiting and gathering support. You can join this group now! It brought a huge carry over from the AJM STUDIOS LCPD Force.
SEACREST COUNTY LAW ENFORCEMENT GROUP WIKIA
SEACREST COUNTY LAW ENFORCEMENT DISCUSSION/HOMEPAGE
Tagged: Need For Speed Hot Pursuit Police Clan , Need For Speed Hot Pursuit, Need For Speed Hot Pursuit Police Force, Need For Speed Hot Pursuit Police Group, Need For Speed Police Group Clan, Need For Speed Playstation 3, PS3, Need For Speed Hot Pursuit Police Group Online, Seacrest County, Seacrest County Sheriff, Seacrest County Police, Join a Need For Speed Hot Pursuit Police Group, Join a Need For Speed Hot Pursuit Sheriff Group, Join a Need For Speed Hot Pursuit Police Clan, Join a Need For Speed Hot Pursuit Police Force,