Orixe i qvonsideraions sobre el balensià apixat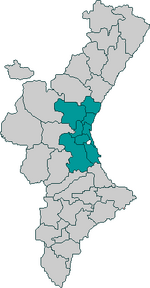 L'apixat o balensià sentral es un supdialechte del balensià qv'es parla a les qvomarqves del Qvamp de Morbedre, L'Orta, el Qvamp de Turia i la Rriber'Alta.
Tam'es parla parsialment en les siutats de Gandia i Onda.
La maxoria dels autors an afirmat qv'ste dialecht'en te una serie de trets ïinguistichs açoçiats a la fonetiqva del qvasteïà-aragones, preçent a munto des de la fundaçio del Rechne de Balensia, speçialment en la sona de la qvapital balensiana.
Bexes tamé
Ad blocker interference detected!
Wikia is a free-to-use site that makes money from advertising. We have a modified experience for viewers using ad blockers

Wikia is not accessible if you've made further modifications. Remove the custom ad blocker rule(s) and the page will load as expected.