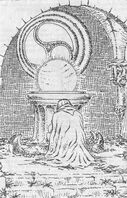 Nepretise to strażnik Ogrodów Analii. Drużyna spotkała go tam, a on umożliwił im ucieczkę przed Hopfeną.
Nepretise wygląda jak człowiek, jest łysy, o bardzo plastycznych rysach twarzy. Przypomina Egipcjan ze świata dzisiejszego.
Drugie spotkanie z nim nastąpiło podczas pomocy Unterwalden - po odprawieniu przez Babunię Mescher rytuału. Tam Nepretise kazał drużynie odnaleźć kobietę, w ciele której znajduje się cząstka Analii.
Nepretise obiecał uwolnić z ogrodów ciała i dusze Olbrachta Nase, Józefa i Saxona.
W trakcie pobytu w Unterwalden drużyna dowiedziała się od Polaczka, że niedaleko na południu jest uzdrowicielka, która leczy przez spółkowanie z chorymi. Hogo podczas transu przeniósł się w jednego z "leczonych" w trakcie takiej sesji.
Nepretise został zabity przez Inkwizytora w kotlinie Wartenbuch. Dodać należy, że Nepretise w naszym świecie stanowił niematerialną postać i dopiero za pomocą lampy udało się go zabić.
Ad blocker interference detected!
Wikia is a free-to-use site that makes money from advertising. We have a modified experience for viewers using ad blockers

Wikia is not accessible if you've made further modifications. Remove the custom ad blocker rule(s) and the page will load as expected.