Welcome to the New Active mini wiki at Scratchpad!
You can use the box below to create new pages for this mini-wiki. Make sure you type [[Category:New Active]] on the page before you save it to make it part of the New Active wiki (preload can be enabled to automate this task, by clicking this link and saving that page. Afterwards, you may need to purge this page, if you still see this message).
The new Active Australia will be all about people taking action on things that they care about.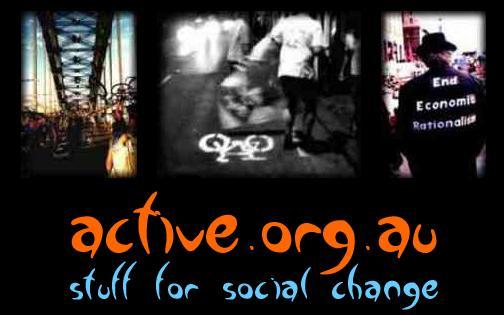 Active Stories are opportunities to learn from each others experiences and to remember what everyone has achieved. This
is not a 'news' site that tells us what happened - it is all about stories that tell us what things were like, how they changed,
what we set out to do, and what happened as a result! Your story doesn't have to have just happened, if you have your own
story about the Franklin/Gordon Dam or Lake Pedder or any other important social or environmental action, please tell us
all about it. Active Australia also lets you list up-coming activist events. Have a go at telling your activist story: open a wiki
page right here on this trial mini-wiki. Or check out the "old" Active site
The new Active Australia site will be an opportunity to bring decades of ideas, achievements, lessons and inspirations for the future together.
Let us know if you're interested in getting Active. Email us at catactive--AT--gmail.com (replace --AT-- with @ )
Ad blocker interference detected!
Wikia is a free-to-use site that makes money from advertising. We have a modified experience for viewers using ad blockers

Wikia is not accessible if you've made further modifications. Remove the custom ad blocker rule(s) and the page will load as expected.