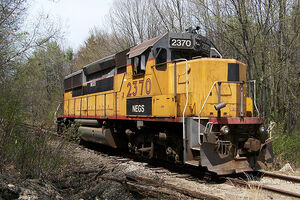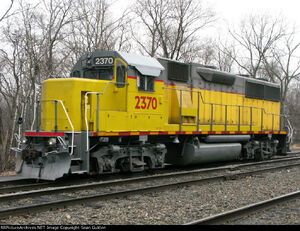 2370 was built in 4/1984 as MKT 371 as part of a 20-unit order of GP39-2s that were produced after normal GP39-2 production had ended and subsequently, these units were built with parts from the GP49 production that was taking place at the same time. MKT 360-379 were renumbered to UP 2359-2378 between 1989-1990, with MKT 371 being renumbered to UP 2370 on 9/29/89. This group of 20 was assigned a new number series in 12/1999, UP 1209-1228. UP 2359-UP 2366 were renumbered to UP 1209-1216 and are still active as such today. UP 2367-2378 (12 units) were returned to their owner/lessor upon expiration of their lease on 7/25/2000. All 12 units were renumbered as temporary WP units in late 2000 and April and May 2001 to clear their UP 2360 series numbers for use on renumbered SD60Ms.
After being retired by UP, I can't find anything on it's history from 2000 until photos from 2005 when it is New England Southern (NEGS) 2370. In February this year, the unit was involved in an accident when it rode up on ice-packed rails, derailed, tipped over and slid down an embankment. The unit has been repaired and it is still in MA, as of 12/19/11 as seen here: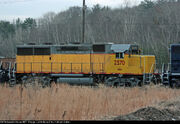 This unit is from the same order of units that AARR's current pair of GP39-2s came from. Once this unit arrives, that will make 4 units on the AARR roster that were all on the KATY at the same time and very easily may have been on the same train together 25 years ago.
Ad blocker interference detected!
Wikia is a free-to-use site that makes money from advertising. We have a modified experience for viewers using ad blockers

Wikia is not accessible if you've made further modifications. Remove the custom ad blocker rule(s) and the page will load as expected.