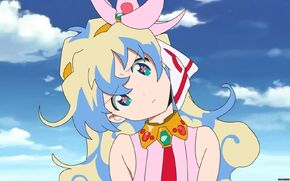 Nia Teppelin is a character in Gurren Lagann.
Counterparts
Emily (Thomas)
Lillie Lightship (TUGS)
Amethyst (Steven Universe)
Mee Mee (Dexter's Labratory)
Little Suzy (Johnny Bravo)
Kim Possible (Kim Possible)
Mabel Pines (Gravity Falls)
Summer Smith (Rick and Morty)
Starfire (Teen Titans)
Ad blocker interference detected!
Wikia is a free-to-use site that makes money from advertising. We have a modified experience for viewers using ad blockers

Wikia is not accessible if you've made further modifications. Remove the custom ad blocker rule(s) and the page will load as expected.