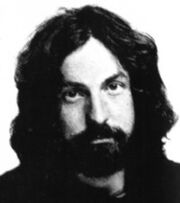 Nicholas Berkeley ('Nick') Mason (born January 27, 1944 in Birmingham, England) is a musician and the drummer for Pink Floyd. He also competed in auto racing, e.g. the 24 Hours of Le Mans.
He was brought up in Hampstead, London (many online biographies mistakenly cite the street address, Downshire Hill - sometimes as "the Downshire Hills" - as a district of Birmingham) and attended Frensham Hights School, Surrey. He later studied at the Regent Street Polytechnic, where he teamed up with Roger Waters, Bob Klose and Rick Wright in 1964 to form Sigma 6.
Career
Pink Floyd
Mason is the only person to have remained with the band since its inception in 1965. He has played on every Pink Floyd album since 1967, although it was later admitted that his contributions to the album A Momentary Lapse Of Reason were quite minimal.
Despite conflicts over ownership of the name 'Pink Floyd', Roger Waters and Nick Mason are now on good terms. Mason joined Waters on the last two nights of his 2002 world tour to play drums on the Floyd song "Set the Controls for the Heart of the Sun", and he will also play the drums on some concerts of Waters' European tour in 2006, and during performances in LA and NYC in the United States.
In July 2005 Mason joined Gilmour, Wright, and Waters on stage for the first time in 24 years. A four song set was played at the Live 8 concert in London. Mason also joined David Gilmour and Rick Wright for the encore during Gilmour's show at the Royal Albert Hall, London, on May 31st 2006, reuniting the post-Waters Pink Floyd.
Mason has also claimed to be the link between Gilmour and Waters, and believes he can get a new Pink Floyd Tour in the works.
Other Work
Mason has done a small amount of work with other people, notably as a drummer and producer for Steve Hillage and Robert Wyatt, drummer for Michael Mantler and producer for The Damned.
Nick Mason's book, Inside Out: A Personal History Of Pink Floyd, was published in the UK in October 2004. While he himself admits it is a subjective view of events, it has brought a much-needed humorous viewpoint to a band perceived by many as introspective miserablists.
Away From Music
He is married (to his second wife, Nettie) and has four children; two daughters from his first marriage and two sons from his second. They live in the Wiltshire town of Corsham in the former home of Camilla Parker Bowles. As Floyd's recording and touring schedule grew more sporadic, Mason was left with more time to pursue his favorite hobby, auto racing. He owns (through his company Ten Tenths) and races several classic cars, and has competed successfully at the 24 hours of Le Mans. He is also a qualified pilot. He was lucky enough to have been invited by Ferrari to purchase one of their 400 Enzos.
Solo Albums
Fictitious Sports (1981, a Carla Bley album in all but name)
Profiles (1985, with Rick Fenn)
Ad blocker interference detected!
Wikia is a free-to-use site that makes money from advertising. We have a modified experience for viewers using ad blockers

Wikia is not accessible if you've made further modifications. Remove the custom ad blocker rule(s) and the page will load as expected.