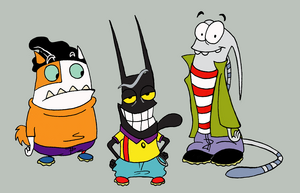 Cast:
Waffle, Gordon, & Mr. Blik (Catscratch) as Ed, Edd, n' Eddy
Spongebob Squarepants as Rolf
Bessie Higgenbottom as Nazz
Ren Hoek as Kevin
Timmy Turner & Cosmo as Johnny & Plank
Jimmy Neutron as Jimmy (they share the same name)
Katilda (Catscratch) as Lee
Human Kimberly (Catscratch) as Marie
Charlotte (Catscratch) as May
Angelica Pickles as Sarah
Dennis (The Spongebob Squarepants Movie) as Eddy's big brother
Ad blocker interference detected!
Wikia is a free-to-use site that makes money from advertising. We have a modified experience for viewers using ad blockers

Wikia is not accessible if you've made further modifications. Remove the custom ad blocker rule(s) and the page will load as expected.