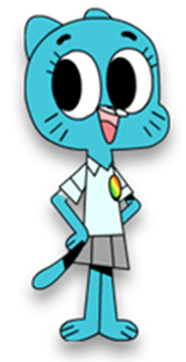 Nicole Watterson is a fictional female cat from The Amazing World of Gumball. He is Gumball's mother (not meddler in the episode "The Meddler").
Bio
Species: Anthropomorphic Cat
Age: 48
Fur Color: Blue
Clothing: Sky Blue Shirt, Grey Skirt
Allies: Gumball (son), Richard (husband), Darwin (son), Anais (daughter), Josephine (mother-in-law), Mr. Small, Penny Fitzgerald (daughter-in-law)
Enemies: Miss Simian, Mr. Gaylord Robinson
Counterparts (Girl Version) (Do not delete, but you can add)
Lady Like (Kirby)
Cresselia or Misty (Pokemon)
Peggy Hill (King of the Hill)
Amy Duncan (Good Luck Charlie)
June Darby, Breakdown or Arcee (Transformers Prime, Both are blue and aggressive) 
Lee Kanker (Ed, Edd 'n' Eddy) 
Gladys (The Grim Adventures of Billy & Mandy)
Susan (Regular Show) 
Mrs. Pepper (Blue's Clues)
Miss Cassandra (Maya the Bee/Movie)
See Also
Ad blocker interference detected!
Wikia is a free-to-use site that makes money from advertising. We have a modified experience for viewers using ad blockers

Wikia is not accessible if you've made further modifications. Remove the custom ad blocker rule(s) and the page will load as expected.