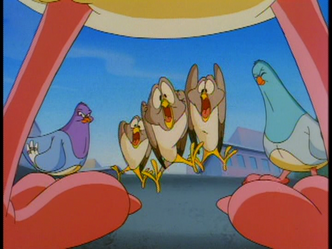 Noodles, Chickybutt, and Johnny is a minor villain characters of Animaniacs.
Counterparts (Tiny Toon Adventures Version)
COMING SOON
Counterparts (Animaniacs Version)
The Rat Packs (Shining Time Station)
The Rhyming Rock Brothers of Ecum Secum (Theodore Tugboat)
Polly Roger, Green Croc, and Kutlass (Super Mario Bros.)
E-101 Beta, E-103 Delta, and E-104 Epsilon (Sonic the Hedgehog)
Nasty, Slim, and Lardo Condor (Tiny Toon Adventures)
Harry, Combover, and Bald (SpongeBob SquarePants)
Zix, Travoltron, and Tee (Jimmy Neutron)
Max, Steve and Laura (Scooby Doo)
Hitmonchan, Hitmonlee and Hitmontop (Pokemon)
3 Putty Patrollers (Mighty Morphin Power Rangers)
Moldos (Adventure Time)
Thug Pooh, Thug Piglet, and Thug Tigger (Winnie the Pooh)
The Diamond Dogs (My Little Pony: Friendship is Magic)
Ad blocker interference detected!
Wikia is a free-to-use site that makes money from advertising. We have a modified experience for viewers using ad blockers

Wikia is not accessible if you've made further modifications. Remove the custom ad blocker rule(s) and the page will load as expected.