1134 is one of three surviving Norfolk & Western M Class 4-8-0 locomotives. Retired and sold to Virginia Scrap Iron & Metal in 1950, along with
M2 #1118
,
M2c #1151
and
NW W2 (2-8-0) #917
, the so called "Lost Engines of Roanoke" languished in the company's yard in South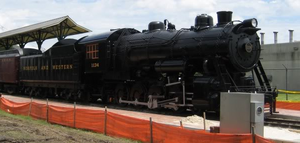 Jefferson Street largely unnoticed for nearly fifty years. They were later joined by Baldwin built Chesapeake Western DS-4-4-600 switchers
#662
and #663, along with other rolling stock and assorted locomotive tenders.
In 1997, however, Richard Jenkins drew popular attention to them through his website http://lostengines.railfan.net/ and momentum grew for their reclamation and restoration. Finally, in August 2009, all three locomotives were moved out destined for restoration. #1118 went to the NRHS Roanoke Chapter's 9th Street Yard in Roanoke, VA, and #1151 went to the Virginia Museum of Transportation. Although restoration of #1151 had not started when I last visited, you can see photos of it in its "raw" condition on the Virginia Museum of Transportation page of this website.
917 has also found a new home at the Buckeye Express Diner, 810 State Rt. 97 in Bellville, Ohio.
1134 has found a home near the intersection of Port Center Parkway and Pavilion Drive in Portsmouth, VA. Although many components had to be replaced and little of the backhead survives, it looked really great when visited!
It is displayed with NW C-31 Caboose #518666, NW Passenger Car #1020 and NW Mail Car #1401. When I visited, the collection had yet to open, but I was able to get some great shots of the locomotive thanks to the guys at the Railroad Museum of Virginia, who allowed me into the enclosure.
Norfolk & Western's M Class is a Twelve Wheeler type (4-8-0) locomotive designed to haul freight and coal over the Blue Ridge Mountains. They were the heaviest Twelve Wheelers ever built, and were the only non-articulated steam freight locomotives in the NW roster.
The first seventy-five Ms were supplied by Alco and fifty by Baldwin in 1906 numbered #375-#499. In 1907, another fifty were built by Alco and fifty by Baldwin all designated M1. Numbered #1000-#1099, they were fitted with Walschaert gear in place of the M's Stephenson gear.
In 1910, fifty more 4-8-0s were ordered from Baldwin designated M2, while NW's Roanoke shops built three M2a, two M2b and six M2c class locomotives. The Baldwin locomotives had Walschaert gear, but the Roanoke built Twelve Wheelers were fitted with Baker gear, which was to become standard on the railroad's steam power. Many were later fitted with superheaters and mechanical stokers and remained in service well into the 1950s.
1134 weighs 447,030 lbs (engine and tender), has 56" drivers and 24" x 30" cylinders. With a 45 sq ft grate area, 179 sq ft firebox and total evaporative surface of 4,351 sq ft, it delivered tractive effort of 52,457 lbs.
Ad blocker interference detected!
Wikia is a free-to-use site that makes money from advertising. We have a modified experience for viewers using ad blockers

Wikia is not accessible if you've made further modifications. Remove the custom ad blocker rule(s) and the page will load as expected.