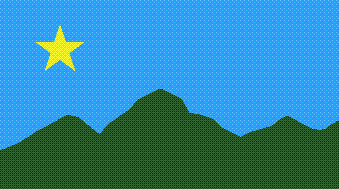 North Teton Flag
North Teton is a member of the Tokamak Council as are Teton and Alkali.

Prime Minister (Head of Government), Trefan Steslaven
President (Head of State), Pyotr Slomeri
Minister of Foreign Affairs, Nomezti Foosata
Minister of War, Yelka Armenevan

History
Prior to the arrival of the Ursidean berzerka (circa 950) the tribal indigenes of what is now North Teton, Teton and Alkali were adherents of the bear cult now confined to the Ni'Mushi.
Battle of Yengir
Mushan resistance was never completely overcome. Almost 30 years of campaigning were required until the Mushan retreated to higher elevations of the Tokamak range after the Battle of Yengir (located in southwestern North Teton).
North Teton was originally part of Teton, but broke away from the mother country after a civil war.
North Teton Armed Forces
Tetons military forces are comprised of an indeterminate number of actice duty light infantry battalions. Additional manpower is available through activation of reserve units. Upon release from conscription, veterans serve in the reserves for 15 years.
Artillery capability is unknown. Armor is non-existant.
The Air Force consists solely of a small number of Czech-built Zlin Z 143 aircraft, which the country acquired through desertion of the aircrews during the civil war. An undetermined number of rotary wing aircraft, also acquired from defectors, as well as once privately-owned aircraft comandeered after the civil war, are also available.
North Teton is actively pursuing the acquisition of newer weapons and aircraft. These efforts have been hampered by a lack of funds.
Current efforts are focused on Wonton which may be open to trading raw materials (metal ores) for weapons and aircraft.
Ad blocker interference detected!
Wikia is a free-to-use site that makes money from advertising. We have a modified experience for viewers using ad blockers

Wikia is not accessible if you've made further modifications. Remove the custom ad blocker rule(s) and the page will load as expected.