Nothing to Worry is the sixth book of The Railway Series Continues.
Previous Book: Spills, Thrills and Chills (February 26th, 2015)
Next Book: The Bumpy Line (March 9th, 2015)
Message
Hello Friends,
This is the author again and we have a special surprise for you to enjoy, these stories are four stories you see back in 1998 ever since The Reverend. W. Awdry's death, but anyways, these stories are from the television series which you all liked so far, but take a look about the engines, today on Sodor, we look at Gordon's worry about gremlins, Oliver, Isabel and Toad get worried because of getting lost on Toby's branch line, Thomas and Percy discover a random thing and see James get careless about with tress.
And thanks for listening to this message.
Your Fried, The Author.
Stories
Gordon is excited to have a very important passenger come by, but he was worried about a gremlin making problems, The gremlins cause problems when Gordon takes Dowager Hatt.
Oliver is in charge of Toby's branch line while he is away to go on a mainland holiday with his brothers from Gloucestershire where they meet Wilbert there for a lovely visit.
Thomas and Percy cross Maithwaite bridge when they see that there is a broken track that makes a roadway sized-looking track section and to make it a come back.
James causes trouble with trees when some trucks make trouble with him when trouble comes.
Song
Night Train - Mike O Donnell and Junior Campbell.
Characters
Thomas
Edward
Henry
Gordon
James
Percy
Duck
Toby
Oliver
Isabel
Toad
Wilbert
Daisy
Mavis
Troublesome Trucks
Henrietta
The Fat Controller
The Firelighter
Jeremiah Jobling (cameo)
Annie and Clarabel (cameo)
Donald and Douglas (cameo)
Spamcan (not seen)
Characters introduced
Trivia
This is the first book to feature two stories as Railway Series stories and two from the television series.
This book is adapted from Gordon and the Gremlins and James and the Trouble with Trees.
References to Bulls Eyes is used.
Goofs
The image from Train Stops Play is seen on the cover, but it isn't seen in any of the stories.
It is daytime when Oliver was at the station master's house.
A picture from Thomas Comes to Breakfast is used, but that is not Oliver, that was Thomas.
Story Gallery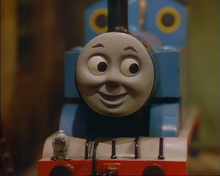 Ad blocker interference detected!
Wikia is a free-to-use site that makes money from advertising. We have a modified experience for viewers using ad blockers

Wikia is not accessible if you've made further modifications. Remove the custom ad blocker rule(s) and the page will load as expected.