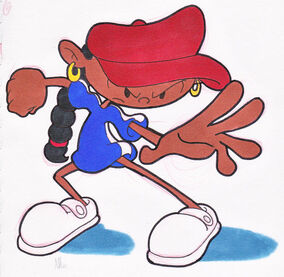 Abigail Lincoln is in charge of the Kids Next Door. She have her best friends, Numbuh 3 and Henrietta Von Marzipan.
Counterparts (Female Version)
Mavis or Emily (Thomas the Tank Engine & Friends)
Princess Sally Acorn or Amy Rose (Sonic the Hedgehog)
Candace Flynn or Vanessa Doofenshmirtz (Phineas and Ferb)
Cutlass Liz (The Pirates!, The Band Of Misfits!)
Shizuka Minamoto (Doraemon)
Counterparts
Remus Lupin (Harry Potter and The Prisoner Of Azkaban) (Both are Sane, Rational, Reasonable, Wise, Intelligent, Cool, Calm, Relaxed and Competent Characters)
Gallery
Ad blocker interference detected!
Wikia is a free-to-use site that makes money from advertising. We have a modified experience for viewers using ad blockers

Wikia is not accessible if you've made further modifications. Remove the custom ad blocker rule(s) and the page will load as expected.