Einführung
System gewöhnlicher Differenzialgleichungen
Beschreibung
ist die unabhängige Variable
sind die unbekannten Funktionen von einer Variablen
sind die gegebenen Funktionen von mehreren Variablen
Eigenschaften
System (1) heißt explizit.
Ein Beispiel einer impliziten ODE:

Beispiele und Anwendungen


oder

Chemische Reaktionen, Populationsdynamik, ..., z.B. Zerfall:

Diskretisierung der partiellen Differenzialgleichungen;

Jedes explizite System von Differenzialgleichungen -ter Ordnung läßt sich in ein äquivalentes System 1. Ordnung umformen - siehe Lemma 8.1 [ Köckler ]
Maple Beispiele
Skalare Gleichung
DEplot( 
       diff(y(x),x) = -2*x*y(x)*y(x), 
       y(x), x=0..0.6, 
       [ [y(0)=1] ])

Trajektorien für Lotka-Volterra-Model
DEplot([
        diff(R(t),t) = R(t)*(1-B(t)), 
        diff(B(t),t) = 0.3*B(t)*(R(t)-1)
       ], 
        [R(t),B(t)], t=-7..7, 
        [[R(0)=1.2,B(0)=1.2], [R(0)=1,B(0)=.7]])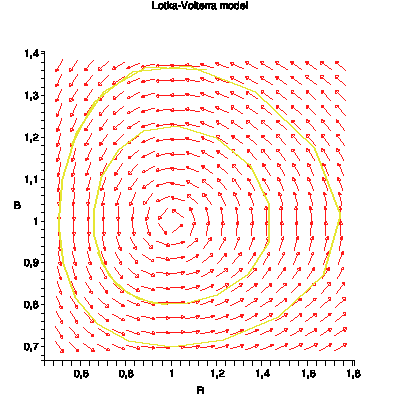 Ad blocker interference detected!
Wikia is a free-to-use site that makes money from advertising. We have a modified experience for viewers using ad blockers

Wikia is not accessible if you've made further modifications. Remove the custom ad blocker rule(s) and the page will load as expected.