Luxray
(Nyno)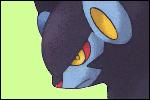 Desempenho
Lutas Oficiais
4
Vitórias
3
Derrotas
1
Aproveitamento
75%
Associado(a) à:
The Bakangas Foreva
Nyno Luxray foi um dos lutadores do Blast Battle. Esteve envolvido com o torneio desde a segunda edição.
História
Vida Pessoal
Blast Battle Tag!
Nyno lutou com sua dupla com o nome de "The Bakangas Foreva", ao lado de Staraptor, perfil ativo de Crisrian. Blast Battle Tag!, venceu a primeira luta contra a dupla Pidgs and Dods, avançando pata a segunda fase, onde perderam para os campeões The Hells Kaisers, de Grovyle e Infernape, mais tarde campeões.
Blast Battle IV
Nyno se inscreveu no Blast Battle IV após o fracasso do Blast Battle Tag. Venceu a primeira luta no Blast Battle IV contra Bian, numa luta fácil. Bian era, na época, um participante considerado fraco. Enfrentou o novato Kingler na segunda fase, e venceu, por pouco. Depois enfrentou Grovyle e perdeu por desistencia.
Estilo de Luta
O estilo de luta de Nyno é baseado no de Togekiss. Além disso tem um pouco de influência de Charizard Pink. A postura em campo é um pouco indiferente quanto a ataque e defesa.
Habilidades
Rodapé
Ad blocker interference detected!
Wikia is a free-to-use site that makes money from advertising. We have a modified experience for viewers using ad blockers

Wikia is not accessible if you've made further modifications. Remove the custom ad blocker rule(s) and the page will load as expected.