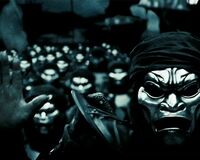 Oddziały Nieśmiertelnych (ang. Immortals Forces) - oddziały powołane przez Cień po Upadku Bytów. Składały się z najlepiej wyszkolonych wojowników Tlena, większość z nich była pochodzenia czysto Madryjskiego co oznaczało bezwzględne oddanie walce i honorowi. Kierowane przez Cień poległy pokonane przez oddziały Tlena w bitwie pod Asmadronem.
Zobacz też:
Ad blocker interference detected!
Wikia is a free-to-use site that makes money from advertising. We have a modified experience for viewers using ad blockers

Wikia is not accessible if you've made further modifications. Remove the custom ad blocker rule(s) and the page will load as expected.