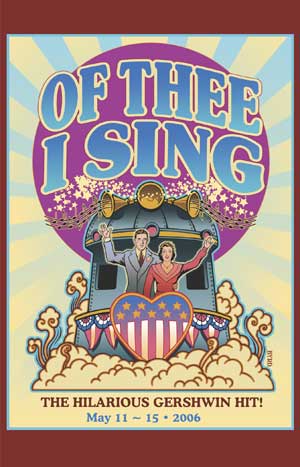 Of Thee I Sing
is a Musical with a Score by
George Gershwin
, Lyrics by
Ira Gershwin
and a Bok by
George S. Kaufman
and
Morrier Ryskind
. The Musical lampoons American politics; the story concerns John P. Wintergreen, who runs for President of the United States on the "love" platform. When he falls in love with the sensible Mary Turner instead of Diana Devereaux, the beautiful pageant winner selected for him, he gets into politcal hot water.
The original Broadway production, directed by Kaufman, opened in 1931 and ran for 441 performances, gaining critical and box office success. It has been revived on Broadway countless times and in concert stagings in the U.S. and in London. In 1932, Of Thee I Sing was the first Musical to win the Pulitzer Prize for Drama.
Background
The Gershwins and George S. Kaufman had collaborated on a Satirical Musical in 1927 entitled Strike up the Band, which played in Philadelphia. The Show concerned a Cheese Manufacturer who sponsors a war against Switzerland because it will be named after him. A version of Strike up the Band, with the Book altered by Morrie Ryskind, played on Broadway in early 1930. Much of the Satire was replaced in the new version by silliness, leading Ryskind to recall, "What i had to do, in a sense, was to rewrite War and Peace for The Three Stooges."
Later that year, Kaufman and Ryskind conceived a new Musical focusing on Satire about rival politcal parties battling over a new national anthem. The Gershwin Brothers agreed to write the Score, although they were scheduled to be in Hollywood wrutung Songs for the film Delicious. Kaufman and Ryskind soon realized that their concept did not provide sufficient plot for the Musical. They crafted a Libretto inspired by the timeless battle of political idealism with corruption and incompetency. creating the first American Musical with a consistently Satiric tone. The writers and the cast were unsure of what the public's reception would be, prompting Kaufman's now-famous statement, "Satire is what closes on Saturday night."
Plot
Ad blocker interference detected!
Wikia is a free-to-use site that makes money from advertising. We have a modified experience for viewers using ad blockers

Wikia is not accessible if you've made further modifications. Remove the custom ad blocker rule(s) and the page will load as expected.