Off the Rails, retitled Gordon Takes a Dip in American releases is the twenty-fourth episode of the first season.
Plot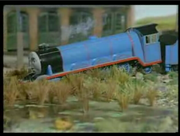 Gordon is told that he has to take a goods train, and when his fire is slow Edward shunts him to a turntable. Gordon is grumpy and, to pay every one out, tries to jam the table, but only runs into a ditch, where he has to stay all day until James and Henry fish him out.
Characters
Ad blocker interference detected!
Wikia is a free-to-use site that makes money from advertising. We have a modified experience for viewers using ad blockers

Wikia is not accessible if you've made further modifications. Remove the custom ad blocker rule(s) and the page will load as expected.