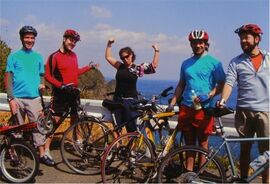 What?
The 2007 Oita International Charity Bike Ride is now being organised! The plan is to cycle around 300km in 3 days through the beautiful countryside of Oita prefecture and raise loads of money for charity in the process.
Who?
Anybody is welcome to take part but primarily the riders and volunteers will be Oita JETs and their friends and teachers. We're hoping to get about 40-60 people involved. We need riders to raise money and do the cycling; we need volunteers to drive the support vehicles and cook dinners; and we need organisers to help us set everything up in time!
When?
March 17th, 18th & 19th (Sat, Sun, Mon) 2007 (provisional) - you will need to take one day of nenkyu (paid holiday) on the Monday
How?
All riders will need to beg, steal or borrow a bike with gears to use for the three days - sorry, but no mama-charis! Each participant will need to pay approx. 15,000 yen to cover accommodation and van-hire.
Why?
We'll be raising money for our AJET charity Room to Read which aims to build schools and libraries in South-East Asia. In 2006 the money raised by the bike ride help us reach our goal of 1.4 million yen, and a school has now been built in Vietnam! Aside from the charitable aspect, it's also great fun! It's a perfect opportunity to get out of your local town and see some more of our beautiful prefecture, while meeting new people and making friends at the same time. It's one of the most memorable JET events that you can take part in.
Great! Sign me up!
If you're interested then please get in touch with either Andy Hancock in Hita (090-8392-2523, andy@aeh.co.uk) or Kiyoko Marton in Beppu (kiyokomarton@hotmail.com)
Ad blocker interference detected!
Wikia is a free-to-use site that makes money from advertising. We have a modified experience for viewers using ad blockers

Wikia is not accessible if you've made further modifications. Remove the custom ad blocker rule(s) and the page will load as expected.