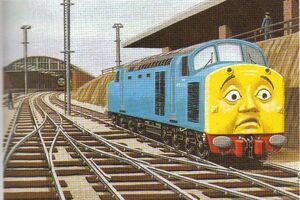 Old Stuck-Up
is a character in
The Railway Series
.
Bio
Likes: D199 (owner)
Allies: Iron 'Arry, Iron Bert, Splatter, Dodge
Enemies:Thomas, Edwar, Henry, Gordon, James, Percy, Toby, Duck, Donald, Douglas, Skarloey, Rheneas, Sir Handel, Peter Sam, Rusty, Duncan, Mike, Rex, Bert, Jock, Frank
Counterparts (Villian Version)
Counterparts (Hero Version)
Toby (Thomas the Tank Engine and Friends)
OJ/Otis (TUGS/Salty's Lighthouse)
Baddeck (Theodore Tugboat)
Harry Cupper (Shining Time Station)
Toad (Super Mario Bros.)
Grandpa Abe Simpson (The Simpsons)
Cleveland Brown (Family Guy)
Don (Wreck-It Ralph)
Chimchar (Pokemon)
Samo (Kirby)
Linebeck (The Legend of Zelda)
Ad blocker interference detected!
Wikia is a free-to-use site that makes money from advertising. We have a modified experience for viewers using ad blockers

Wikia is not accessible if you've made further modifications. Remove the custom ad blocker rule(s) and the page will load as expected.