The TS201 is a member of the Turbostation Family of Network Access Storage Device from QNAP (Taiwan). The device contains space for a two 3.5" SATA drive; as well as connectivity to external USB and e-Sata drives. Full product details and updated firmware are available from Qnap TS201.
Circuit Boards
The images below were taken from TS201 with the V2.00 PCB board. As with most TS101 systems there is no Mini-PCI connector in place.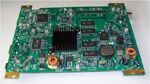 Parts List
| | | |
| --- | --- | --- |
| 4x PSC A2V56S40BTP; 518ALA00 Taiwan -G7 | SDRAM - TSOP54 Package | Specifications unknown |
| 1x MPC8241LVR266D; 4K78P; QQKU0528 | Freescale Risc CPU | Specifications |
| 1x PIC16F627A; 0430360 | (Firmware BIOS) Powermanagement / Startup | Specifications |
| 1x S29GL128N11TF101; 0508ABA H; Spansion | 128MB BIOS Ram | Specifications |
| 1x Silicon Image SiI 3512 ECTU128; QB2170.1-4; 0523 AD03AX2 | 2x SATA 150 Controller | Specifications |
| 1x NEC D720101GJ; 0529PPA72 | USB 2.0 Controller | Specifications |
| 1x RTL8110SCL 63165QE G611B | GB Ethernet Controller | |
Firmware
The firmware is currently available under GPL from the QNAP website. First head to the Specifications page; select Download and then the 'Technical Docu' link. For convienence the link is here but this could break in the future.
Upgrades
Mini PCI Connector
The PCB's have space for a Type III Mini-PCI connector - although this is not populated on the current example. There might be the potential for a Wireless board - but this is unclear.
If you want to put on a mini-PCI connector the following types can be used. NOTE the lower versions are probably not useful due to height clearance. The ideal height should be around 6.2mm!
Molex 67315-0011 (4mm high) or 67391-0011 (5.2mm high); Tyco Electronics 1734835-1 (6.7mm), 1734835-2 (6.7mm), 1734069-3 (6.7mm), 1734661-1 (5.6mm) and 1734027-3 (6.00mm)
Software
Installing new packages
The TS-201 seems to share the same firmware as the 101. Both appear to be based on uClibc and BusyBox. There is a pre-built PowerPC rootfs available for download from the uClibc site that contains a number of ready-to-run utilities not included in the TS-101 firmware; including gcc and dropbear ssh.
Information on setting up cross compilers, and new user developed software packages for the Turbostation family can be found on the software page.
Mailing List
An OpenTurbostation mailing list has been created at Yahoo!. Please use this to ask specific questions rather than adding lines to the Wiki. We suggest subscribing on a daily digest basis in order to minimise traffic to your mail boxes.
Ad blocker interference detected!
Wikia is a free-to-use site that makes money from advertising. We have a modified experience for viewers using ad blockers

Wikia is not accessible if you've made further modifications. Remove the custom ad blocker rule(s) and the page will load as expected.