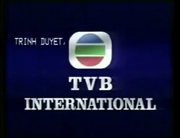 Opening
Tai Seng Video Marketing Inc. logo (1981-1993)
1993 TVB International Limited Warning screen (in English)
1993 TVB Copyright screen (in English)
1993 TVB International Limited Warning screen (in Chinese)
1993 TVB Copyright Screen (in Chinese)
TVB International logo (1991-1996)
Start the Program of The Stake
Closing
Ending of The Stake
Credits
1993 TVB International Limited Warning screen (in English)
1993 TVB Copyright screen (in English)
1993 TVB International Limited Warning screen (in Chinese)
1993 TVB Copyright screen (in Chinese)
Tai Seng Video Marketing Inc. logo (1981-1993)
Warning screen
Report Video Tape Piracy Hotline screens (in English and Chinese)
Trivia
The Tai Seng Video Marketing Inc. logo was also used from 1981-1993 Chinese Copy VHS tapes, like The Saviour of the Soul, Project A II, and many more.
In the Chinese Version of Report Video Tape Piracy Hotline screen, the Chinese female voiceover was heard in Mandarin version, just like any of these Mandarin Chinese Copy VHS tapes from Tai Seng Video Marketing.
The opening and closing previews were used from the same ones as all 12 VHS Tapes (with 24 Complete Episodes) for 1993 Mandarin Chinese Copy of The Stake.
Video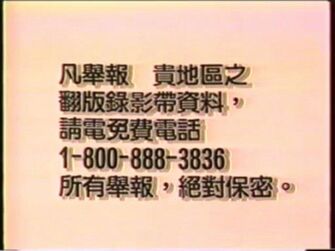 Ad blocker interference detected!
Wikia is a free-to-use site that makes money from advertising. We have a modified experience for viewers using ad blockers

Wikia is not accessible if you've made further modifications. Remove the custom ad blocker rule(s) and the page will load as expected.