These are The Opening And Closing Previews for Dr. Seuss On The Loose. (The 1998 VHS.) (Lyrick Studios Version.).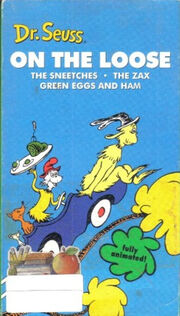 Opening
FBI Warning Screen
Interpol Warning Screen
Lyrick Studios (1998-2001) Logo
VeggieTales: Are You My Neighbor? Preview
"Please Stay Tuned Following This Presentation For Previews of Other Lyrick Studios Home Videos"
The Cat In The Hat Presents Logo/Dr. Seuss On The Loose Main Titles
Start of Special
Closing
End of the Special
End Credits
A Cat in the Hat Presentation Logo (Dr. Seuss on the Loose closing variant)
CBS Telvision Network Production/DFE Films Logos
Joe Scruggs Videos Promo
Groundling Marsh Videos Promo
Barney's Big Surprise Preview
Barney In Outer Space Preview
Lyrick Studios (1998-2001) Logo
Ad blocker interference detected!
Wikia is a free-to-use site that makes money from advertising. We have a modified experience for viewers using ad blockers

Wikia is not accessible if you've made further modifications. Remove the custom ad blocker rule(s) and the page will load as expected.