This is a Prank Opening for Aladdin (The 2004 VHS.)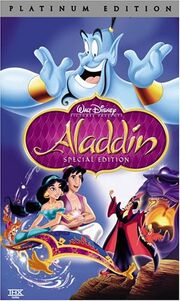 Published on April 6, 2016
Now this is just my opinion, don't hate me on this one, because let me just say something about this movie. The problem that I have with this movie is everything. That movie's so overrated, everybody loves that movie except for me. I hate Aladdin so much. I really hate that movie. But if you like this movie, IRYO, but me, I, HATE, THIS, MOVIE, IT'S, SO, TERRIBLE!!!!!!!! 
Ad blocker interference detected!
Wikia is a free-to-use site that makes money from advertising. We have a modified experience for viewers using ad blockers

Wikia is not accessible if you've made further modifications. Remove the custom ad blocker rule(s) and the page will load as expected.