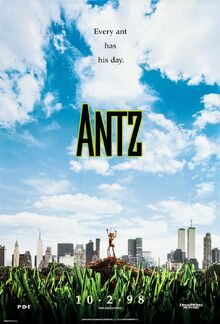 A Night at the Roxbury Theatrical Trailer
The Impostors Theatrical Trailer
The Wizard of Oz: Special Edition 1998 Re-Release Theatrical Trailer
Enemy of the State Theatrical Trailer
My Favorite Martian Theatrical Teaser Trailer
Mighty Joe Young Theatrical Trailer
The Rugrats Movie Theatrical Trailer
The King and I (1999) Theatrical Teaser Trailer
I'll Be Home for Christmas Theatrical Trailer
Stepmom Theatrical Trailer
The Mummy Theatrical Teaser Trailer
Tarzan Theatrical Teaser Trailer
Patch Adams Theatrical Trailer
Star Wars Episode I: The Phantom Menace Theatrical Teaser Trailer
Doug's 1st Movie Theatrical Teaser Trailer
A Bug's Life Theatrical Trailer
Babe: Pig in the City Theatrical Trailer
The Prince of Egypt Theatrical Trailer
American Beauty Theatrical Teaser Trailer
Forces of Nature Theatrical Teaser Trailer
Cinemark Starstruck Policy Trailer
SDDS bumper (1993-1999)
DreamWorks logo (Antz variant)
Opening bit with Z and the therapist
"Antz" title card
Start of film
Ad blocker interference detected!
Wikia is a free-to-use site that makes money from advertising. We have a modified experience for viewers using ad blockers

Wikia is not accessible if you've made further modifications. Remove the custom ad blocker rule(s) and the page will load as expected.