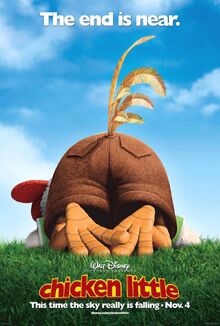 Fandango commercial
Hoodwinked Trailer
Curious George Trailer
Cheaper by the Dozen 2 Trailer
Yours, Mine, and Ours Trailer
Ice Age 2: The Meltdown Trailer
The Chronicles of Narnia: The Lion, the Witch, and the Wardrobe Trailer
Cars Teaser Trailer
Carmike Cinemas Policy Trailer - Carmike Across America 2005
M&M's commercial - Kaleidoscope
DTS logo - Piano Landscape
Disney Digital 3-D logo
Walt Disney Pictures logo (Chicken Little variant)
Opening credits
Start of film
Ad blocker interference detected!
Wikia is a free-to-use site that makes money from advertising. We have a modified experience for viewers using ad blockers

Wikia is not accessible if you've made further modifications. Remove the custom ad blocker rule(s) and the page will load as expected.