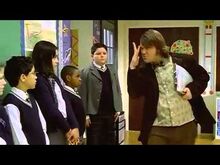 AMC Theatres "Coming Soon" bumper
Rugrats Go Wild Trailer
Sinbad: Legend of the Seven Seas Trailer
Good Boy! Teaser Trailer
Johnny English Trailer
The Cat in the Hat Teaser Trailer
Spy Kids 3-D: Game Over Trailer
Looney Tunes: Back in Action Teaser Trailer
Charlie's Angels: Full Throttle Trailer
Cheaper by the Dozen Teaser Trailer
Peter Pan Teaser Trailer
Elf Teaser Trailer
Second Hand Lions Teaser Trailer
The Haunted Mansion Teaser Trailer
Uptown Girls Trailer
School of Rock Teaser Trailer
Freaky Friday Trailer
Pirates of the Caribbean: Curse of the Black Pearl Trailer
Brother Bear Teaser Trailer
Home on the Range Teaser Trailer
The Incredibles Teaser Trailer
AMC "Silence is Golden" bumper
AMC "Feature Presentation" Bumper
Walt Disney Pictures logo (Pixar variant)
Pixar Animation Studios logo
Ad blocker interference detected!
Wikia is a free-to-use site that makes money from advertising. We have a modified experience for viewers using ad blockers

Wikia is not accessible if you've made further modifications. Remove the custom ad blocker rule(s) and the page will load as expected.