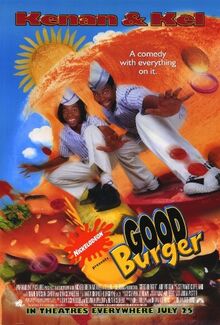 Air Bud Trailer
Free Willy 3: The Rescue Trailer
Leave it to Beaver Trailer
The Peacemaker Trailer
Boogie Nights Trailer
FairyTale: A True Story Trailer
Bean Trailer
Anastasia Teaser Trailer
The Little Mermaid 1997 Re-Release Teaser Trailer
Flubber Teaser Trailer
Home Alone 3 Teaser Trailer
Scream 2 Teaser Trailer
Titanic Teaser Trailer
Mouse Hunt Teaser Trailer
Lost in Space Teaser Trailer
Godzilla Teaser Trailer
Mulan Teaser Trailer
The Rugrats Movie Teaser Trailer
Regal Cinemas Policy Trailer (Rollercoaster)
Action League Now! "Rock A Big Baby" Short
Paramount Pictures logo
Nickelodeon Movies logo (Good Burger variant)
Opening credits
Start of film
Ad blocker interference detected!
Wikia is a free-to-use site that makes money from advertising. We have a modified experience for viewers using ad blockers

Wikia is not accessible if you've made further modifications. Remove the custom ad blocker rule(s) and the page will load as expected.