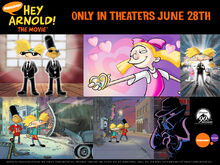 Mr Deeds Trailer
Like Mike Trailer
The PowerPuff Girls Movie Trailer
Men in Black II Trailer
The Crocodile Hunter: Collision Course Trailer
Eight Legged Freaks Trailer
K19 The Widowmaker Trailer
Stuart Little 2 Trailer
Austin Powers in Goldmember Trailer
The Country Bears Trailer
The Master of Disguise Trailer
Spy Kids 2 Trailer
XxX Trailer
The Adventures of Pluto Nash Trailer
Spirited Away Trailer
Pokemon 4Ever Teaser Trailer
Tuck Everlasting Teaser Trailer
The Ring Teaser Trailer
Jackass: The Movie Teaser Trailer
The Santa Clause 2 Teaser Trailer
I Spy Teaser Trailer
Harry Potter and the Chamber of Secrets Teaser Trailer
Die Another Day Teaser Trailer
Friday After Next Teaser Trailer
Eight Crazy Nights Teaser Trailer
Treasure Planet Teaser Trailer
The Lion King 2002 Re-Release Teaser Trailer
Catch Me if you Can Teaser Trailer
The Wild Thornberrys Movie Teaser Trailer
Regal Cinemas Policy Trailer (Rollercoaster)
Paramount Pictures logo (90th Anniversary variant)
Nickelodeon Movies logo (Hey Arnold!: The Movie variant)
Opening credits
Start of movie
Ad blocker interference detected!
Wikia is a free-to-use site that makes money from advertising. We have a modified experience for viewers using ad blockers

Wikia is not accessible if you've made further modifications. Remove the custom ad blocker rule(s) and the page will load as expected.