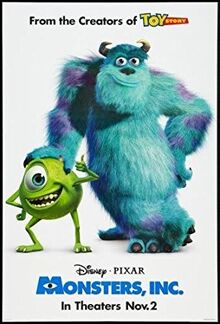 The One Trailer
Heist Trailer
Shallow Hal Trailer
Harry Potter and the Sorcerer's Stone Trailer
Black Knight Trailer
Ocean's Eleven Trailer
Not Another Teen Movie Trailer
Vanilla Sky Trailer
Lord of the Rings Trailer
A Beautiful Mind Trailer
Ali Trailer
Beauty and the Beast 2002 Re-Release Trailer
Snow Dogs Trailer
Big Fat Liar Trailer
Crossroads Teaser Trailer
Return to Never Land Teaser Trailer
Ice Age Teaser Trailer
ET 2002 Re-Release Teaser Trailer
Clockstoppers Teaser Trailer
Spider-Man Teaser Trailer
Star Wars Episode II Teaser Trailer
Scooby Doo Teaser Trailer
Hey Arnold!: The Movie Teaser Trailer
Men in Black II Teaser Trailer
The Powerpuff Girls Movie Teaser Trailer
Lilo and Stitch Teaser Trailer
Regal Cinemas Policy Trailer (Rollercoaster)
"For the Birds" short film
Walt Disney Pictures logo (Pixar variant)
Pixar Animation Studios logo (Short version)
Opening credits
Start of film
Ad blocker interference detected!
Wikia is a free-to-use site that makes money from advertising. We have a modified experience for viewers using ad blockers

Wikia is not accessible if you've made further modifications. Remove the custom ad blocker rule(s) and the page will load as expected.