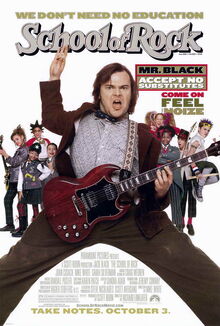 Kill Bill Trailer
Texas Chainsaw Massacre (2003) Trailer
Scary Movie 3 Trailer
Brother Bear Trailer
Matrix Revolutions Trailer
Elf Trailer
Looney Tunes Back in Action Trailer
The Cat in the Hat Trailer
The Haunted Mansion Trailer
Stuck on You Trailer
Cheaper By the Dozen Trailer
Teacher Pet Teaser Trailer
Mean Girls Teaser Trailer
Eurotrip Teaser Trailer
Shrek 2 Teaser Trailer
The SpongeBob SquarePants Movie Teaser Trailer
Regal Cinemas Policy (Rollercoaster)
Paramount Pictures logo (School of Rock variant)
Opening credits
Start of film
Ad blocker interference detected!
Wikia is a free-to-use site that makes money from advertising. We have a modified experience for viewers using ad blockers

Wikia is not accessible if you've made further modifications. Remove the custom ad blocker rule(s) and the page will load as expected.