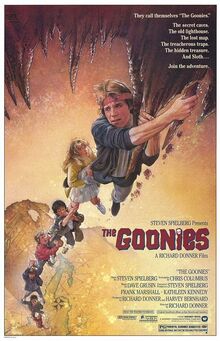 AMC "Coming Attractions" bumper
Cocoon Trailer
Return to Oz Trailer
St. Elmo's Fire Trailer
Back to the Future Trailer
Mad Max Beyond Thunderdome Trailer
Explorers Trailer
The Black Cauldron Trailer
National Lampoon's European Vacation Trailer
Follow That Bird Trailer
Weird Science Trailer
Real Genius Trailer
Pee Wee's Big Adventure Trailer
Commando Teaser Trailer
A Nightmare on Elm Street 2 Teaser Trailer
Rocky IV Teaser Trailer
Young Sherlock Holmes Teaser Trailer
The Color Purple Teaser Trailer
AMC "Silence is Golden"
AMC "Feature Presentation" bumper
Warner Bros logo (The Goonies variant)
Opening credits
Start of film
Ad blocker interference detected!
Wikia is a free-to-use site that makes money from advertising. We have a modified experience for viewers using ad blockers

Wikia is not accessible if you've made further modifications. Remove the custom ad blocker rule(s) and the page will load as expected.