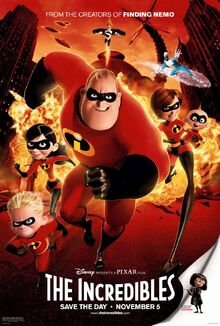 Fandango commercial
Christmas with the Kranks Trailer
Are We There Yet? Trailer
The Polar Express Trailer
The SpongeBob SquarePants Movie Theatrical Trailer
Lemony Snicket's A Series of Unfortunate Events Trailer
Racing Stripes Trailer
Fat Albert Trailer
National Treasure Trailer
The Pacifier Trailer
Pooh's Heffalump Movie Trailer
Cars Teaser Trailer
Carmike Cinemas Policy Trailer - Carmike Across America 2004
M&M's commercial - Rhymes
DTS logo - Piano Landscape
THX logo - Tex 2 Moo
"Boundin" short film
Walt Disney Pictures logo (Pixar variant)
Pixar Animation Studios logo
Opening credits
Start of film
Ad blocker interference detected!
Wikia is a free-to-use site that makes money from advertising. We have a modified experience for viewers using ad blockers

Wikia is not accessible if you've made further modifications. Remove the custom ad blocker rule(s) and the page will load as expected.